Shane MacGowan's wife reveals details of singer's last days and 'unexpected' love for Royal Family | Ents & Arts News
The wife of The Pogues frontman Shane MacGowan has said he "wasn't ready to give up" when he died.
Victoria Mary Clarke shared news of her husband's death at the age of 65 in a post on Instagram on 30 November.
MacGowan, who is best known for the festive hit Fairytale Of New York, had suffered from several health issues in recent years, and earlier in November, was treated in St Vincent's Hospital in Dublin for an infection.
He was sent home weeks before his birthday, where he died of pneumonia, The New York Times cited Clarke, a writer, as saying.
Discussing his last days, she said she had been trying alternative therapists, hypnotists, health drinks and physios to try to help him.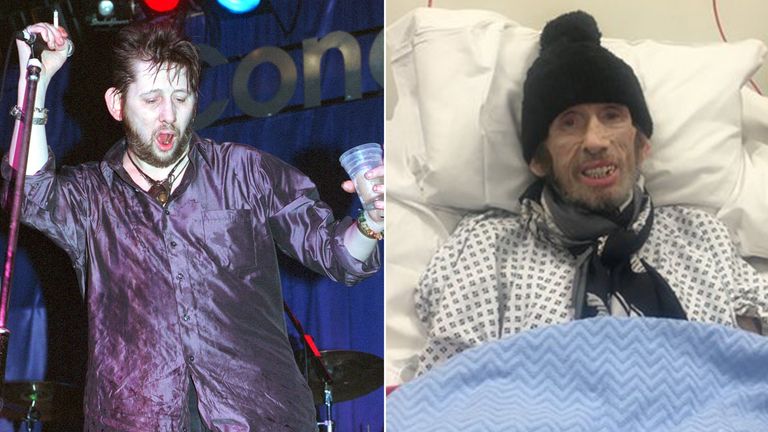 She said after first learning that her husband was coming to the end of his life, she thought she was "going to die".
"He was putting up a really strong fight. He was trying very hard to breathe," she told the Brendan O'Connor Show on Ireland's RTE radio on Saturday.
"He wasn't ready to give up. He wasn't ready to stop fighting – but his body did it for him."
'Huge, weird contradiction'
In a separate interview on the weekend, Clarke revealed that both she and Kent-born MacGowan – whose songs were influenced by Irish nationalism – loved the Royal Family, something that she said "people wouldn't expect".
"We both enjoyed watching programmes about royalty, we watched a lot of documentaries, obviously the funerals," she told BBC Radio 4's Today programme.
"He cried when Prince Philip died, he cried when the Queen died, he cried when Diana died, he thought a lot about the Royal Family, but he was an ardent republican."
She added that he had a "huge love of England and also of Ireland" in what she referred to as a "huge, weird contradiction".
Read more:
A wild life, raw talent, and a forever connection with Christmas
Kiefer Sutherland anecdote about fight with Shane MacGowan resurfaces
"Sometimes we would be sitting there doing the Telegraph crossword puzzle, and I would just be thinking 'Gosh, there's people out there who would be horrified if they could see you doing the Telegraph crossword'."
Clarke then joined in calls to get the beloved Christmas hit her husband was best known for, back to the top of the UK charts.
"It should be the Christmas number one, it absolutely should. I'm very much in favour of that," she said.
The announcement of MacGowan's death was met with an outpouring of tributes, including from Bruce Springsteen, who said people would be "singing Shane's songs 100 years from now".
Dublin rock band U2 also paid tribute, posting a drawing of the singer on social media, with the caption: "Shane MacGowan's songs were perfect so he or we his fans didn't have to be…"
On Friday, Clarke thanked people for their "love and support" after her husband's death, posting a picture of the two of them appearing to dance.
"Losing Shane has been the thing that I feared most for a very long time, almost since we first got together," she wrote.
"Some of the messages and gestures of support have been incredibly moving and unexpected, and I really, really hope that Shane can see how much he is loved by so many people of all ages and kinds."
The post on Instagram gained more than 25,000 likes and over 1,000 comments.