No indication U.S. intelligence was aware of Hamas' Israel attack plan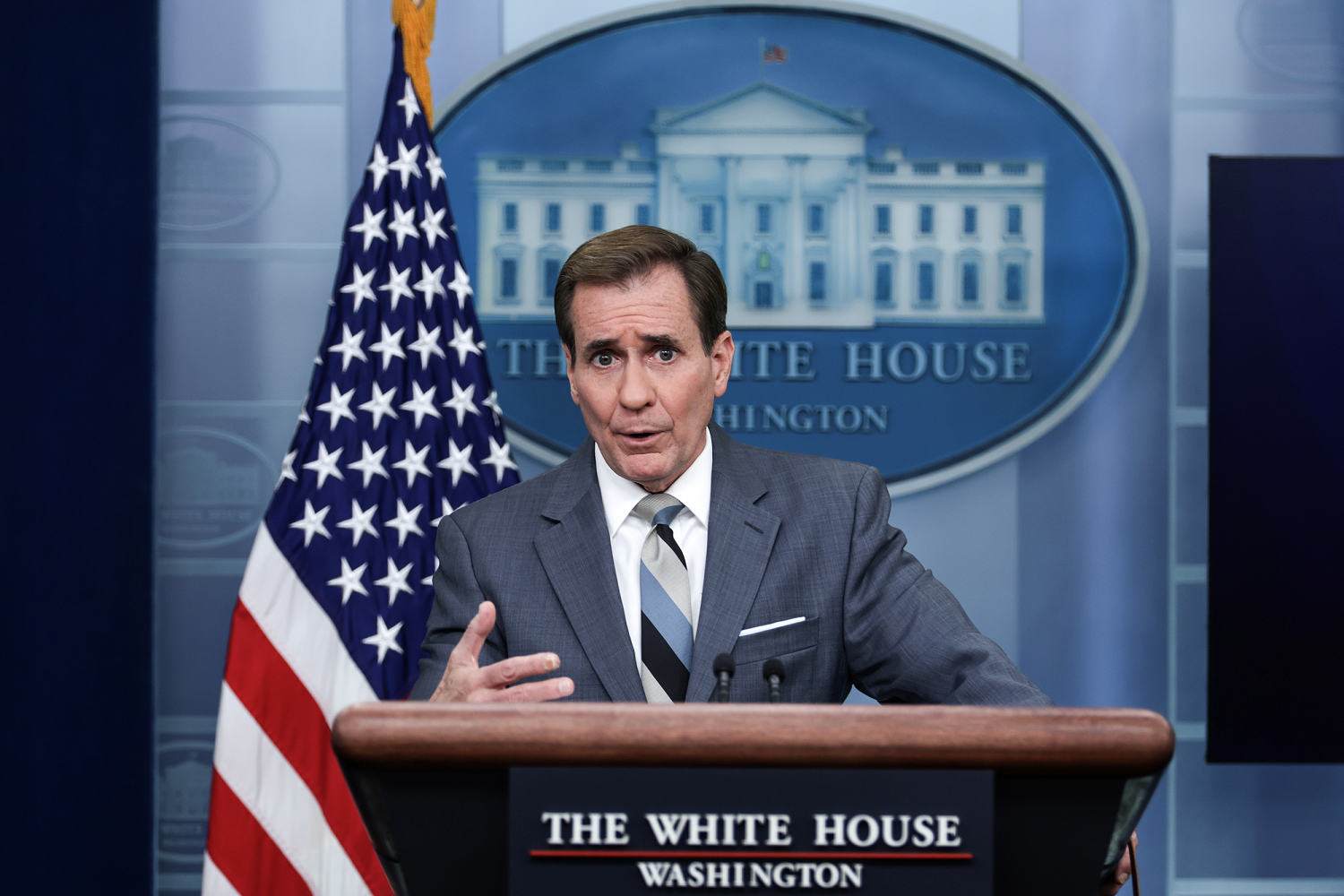 The National Security Council's coordinator for strategic communications John Kirby said Sunday on NBC News that the U.S. intelligence community has indicated it was not aware of Hamas' plan to attack Israel.
The New York Times recently reported that Israeli officials obtained Hamas' plans for its Oct. 7 attack more than a year before it happened, citing documents, emails and interviews. The Times reported that the document was circulated among Israeli military and intelligence officials, but experts dismissed the plan as one that would be too difficult for Hamas to execute.
In an interview on "Meet the Press," host Kristen Welker pressed Kirby about the report, asking: "Was the United States aware of this intelligence, and if not, why not?"
"The intelligence community has indicated that that they did not have access to this document. That there's no indications at this time that they had any access to this document beforehand," Kirby said.
"Should they have? Given how closely U.S. and Israeli intelligence officials coordinate and are supposed to coordinate intelligence?" Welker asked.
"Intelligence is a mosaic and sometimes you know you can fashion things together and get a pretty good picture," Kirby said. "Other times, you know that there's pieces of the puzzle that are missing."
"As I said, our own intelligence community said that they've looked at this," he added. "They have no indications at this time that they had any advance warning of this document or any knowledge of it."
Asked whether this was a failure on the part of Israeli and U.S. intelligence, Kirby said: "I think there's going to be a time and a place for Israel to do that sort of forensic work."
"I mean, [Israeli] Prime Minister Netanyahu has already spoken pretty candidly about this and calling it, you know, a failure on their part," he said. "They'll take a look at this at the right time. They need to do that. Right now, though, the focus has got to be on making sure that they can eliminate this truly genocidal threat to the Israeli people."
In recent days, Israel has intensified its bombardment of the Gaza Strip after talks to renew the truce with Hamas collapsed. More than 15,000 people in Gaza have been killed and about 1.8 million have been displaced after weeks of Israeli attacks, according to health officials. The IDF estimated that more than 1,200 people died and over 200 were abducted in Hamas' attack on Oct. 7, with around 140 people still held captive in Gaza after more than 100 hostages were released during a temporary truce.
Welker noted that Secretary of State Antony Blinken said the Israeli government has agreed to a "clear plan" for averting civilian deaths before resuming its assault on southern Gaza.
Welker asked: "Can you give us an indication — what is that plan, John? And what specific assurances has Israel given to the U.S.?"
"I want to be careful that I don't speak to Israeli military operations and get ahead of what they're doing. That would be inappropriate for me to do," he said. "What I can tell you is that in our conversations with them, they have said that they agree with our idea here that the approach they take matters, that the reduction of civilian casualties and, quite frankly, minimizing damage to civilian infrastructure is important to them."
Welker then pressed Kirby, asking, "What is the United States prepared to do if it feels as though Israel is not following a specific plan to mitigate civilian casualties? What's the fallout?"
"That's a hypothetical, and I don't want to get ahead, again, of where we are right now," he said.
Asked if the U.S. will deliver consequences if it feels Israel is not following a specific plan to protect civilians, Kirby said: "Again, I don't want to speculate one way or the other, Kristen."
"I want to make two things clear. One is we're going to continue to support Israel as they go after Hamas — the security assistance continues to flow. That's not going to change," he said. "We're also going to do everything we can to make sure that they are properly accounting for the civilian population and minimizing the damage and the casualties as much as possible."
NBC News has not independently verified the Times' report about Israel obtaining Hamas' attack plan, or obtained a copy of the 40-page "blueprint" document that Israeli authorities reportedly code-named "Jericho Wall."
Kirby's remarks echo those of a U.S. official who told NBC News last week that American intelligence agencies appear to have not received a document of the blueprint. "There are no indicators at this time that the intelligence community was provided the 'Jericho Wall' document reported last night by the New York Times," the official said, adding that the U.S. intelligence community will continue to review its information.
On Friday, an Israeli official familiar with the matter told NBC News that analysts in the country's military alerted their superiors to Hamas' "plan designed to start a war." But their superiors dismissed their concerns.
A female Israeli intelligence analyst who focused on Hamas described — in a July 6 email with a subject line that read, "Death in the Kibbutz, at any cost" — a May training session by the militant group that began in the early-morning hours and lasted late into the evening. The training included jeeps and motorcycles, and a scenario of shooting down an aircraft. A senior Israeli official, who spoke on condition of anonymity, confirmed to NBC News the emails that were first reported by Israel's Channel 12 news and the Financial Times.
The Israeli intelligence analyst followed up the initial email with information about Hamas militants discussing awaiting instructions.
Six days after the analyst sent the emails, an IDF commander commended the analyst's work, but dismissed the training session as an "imaginary scenario" rather than a concrete battle plan, according to an Israeli official.
Addressing the Times' report, Blinken on Friday vowed that there would be "accountability, looking at what led up to Oct. 7."
"Right now, the focus is on making sure that they can do everything possible to ensure that it doesn't happen again," Blinken told reporters on a tarmac in Dubai, where he attended the COP28 climate summit.