IDF 'close to dismantling the military system' in northern Gaza
Biden tells two different stories about the Israel-Hamas war in letters to Americans
WASHINGTON — President Joe Biden is delivering different messages on the war in the Middle East to pro-Palestinian and pro-Israel Americans, according to copies of official White House correspondence obtained by NBC News.
While one letter emphasizes Biden's support for Israel against the "pure evil" of terrorism, the other focuses on the administration's work to protect civilians in Gaza.
Though the two letters do not contradict one another — or Biden's own policies — it is not common for the White House correspondence office to craft versions of a letter on the same topic that diverge so dramatically in their emphasis. Yet they reflect the political tightrope Biden is trying to navigate as pro-Israel and pro-Palestinian elements of his coalition fray over the war.
Talks to secure release of hostages in Gaza are 'very fluid'
NBC News' Andrea Mitchell sits down with Kristen Welker about the latest developments in the attempts to secure the release of hostages, progress toward fuel deliveries and an uptick in violence in the West Bank.
PRCS: Several killed in strike on West Bank refugee camp
RAMALLAH, West Bank — Several people were killed and at least two more injured in a strike on a building in the occupied West Bank, the Palestine Red Crescent Society said early on Saturday, local time.
The Israeli military did not immediately provide comment on the incident at Balata refugee camp, in the central city of Nablus.
The PRCS earlier said its medics were dealing with several serious injuries from the blast.
NBC News could not independently confirm the details of the incident.
The West Bank, part of territory Israel captured in the 1967 Middle East war, has seen a sharp surge in violence since the deadly attack on southern Israel by Hamas gunmen from Gaza last month.
Situation in Al-Shifa complex is 'catastrophic', Ministry of Health spokesperson says
The humanitarian situation in Al-Shifa medical complex is "catastrophic," a spokesperson for the Ministry of Health in Gaza said.
Dr. Ashraf Al-Qudra told Al Jazeera in a phone interview that the food that was delivered to the complex is sufficient for only about 400 people, though between 7,000 and 10,000 people are in the hospital complex.
"The patients in the Shifa complex are starving and in pain, and the displaced cannot find a piece of bread," he said, according to an NBC News translation.
A number of patients, including babies, have died, and more are at risk without aid, he told Al Jazeera.
Dr. Ahmed El Mokhallalati, a plastic surgeon at the facility, told NBC News today that IDF soldiers had provided some sandwiches and drinking water, but it was not enough.
Pro-Palestinian demonstrations in NYC, Washington
Pro-Palestinian demonstrators rallied in Manhattan on Friday, and protesters also gathered at Union Station in Washington, D.C., almost six weeks after Hamas attacked Israel on Oct. 7 and Israel responded with bombardments and military action in Gaza.
At Union Station in the nation's capital, a speaker called for "Palestinian liberation" and accused Israel of ethnic cleansing, video from the scene showed. A sign said "Free Gaza."
In Manhattan, helicopter video from NBC New York showed a crowd of people with signs marching in the street in the area of 34th Street, not far from the Macy's store.
Some were holding signs and a few wore Palestinian flags draped over their backs, and traffic appeared to be forced to stay stopped as they passed, the video showed.
A New York City police spokesperson said they had no reports of arrests or people detained.
Tanzanian student believed kidnapped has died, foreign ministry says
Tanzania's Foreign Ministry on Friday announced the death of Clemence Felix Mtenga, 22, one of two Tanzanian agriculture interns believed kidnapped by Palestinian militants on Oct. 7.
The statement did not provide details on how the Tanzanian government had learned of his death or the location of his remains.
Clemence and 21-year-old Joshua Loitu Mollel were working on cow farms not far from the Gaza Strip — Clemence had been placed at Nir Oz and Joshua was living at Nahal Oz. They had arrived in Israel in mid-September.
Photo: Protesters demanding cease-fire target Fox News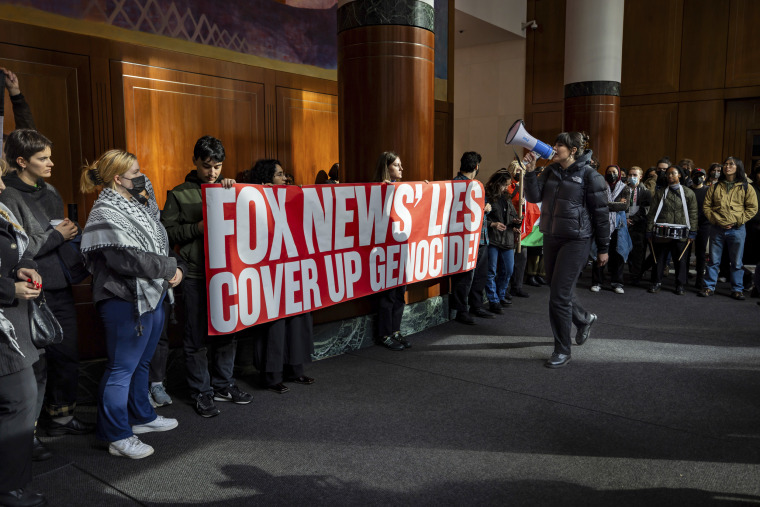 Protesters took over the lobby of News Corp. headquarters in New York on Friday during a demonstration calling for a cease-fire in Gaza.
As many as 16 people were taken into custody, according to the New York Police Department.
Some internet and phone service restored in Gaza thanks to fuel shipment
Some areas in Gaza have renewed access to internet and phone service after a relief organization provided emergency fuel service to the area's largest telecom provider.
Telecommunications were almost completely cut off in Gaza for more than 24 hours after the dominant provider in the area, Paltel, ran out of generator fuel.
Paltel announced on Facebook that thanks to a shipment of fuel from the United Nations Relief and Works Agency, it was able to restart some service.
"We would like to announce the partial return of telecom services (landline, cell and internet) in various areas within the Gaza Strip, after a limited amount of fuel has been provided," Paltel said.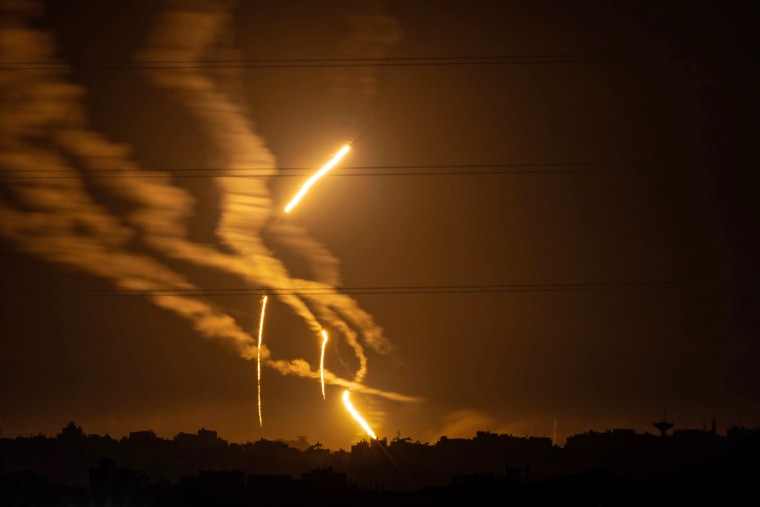 People in southern Gaza 'should stay out of harm's way,' IDF warns
It may take days to ascertain the extent to which Hamas was embedded in hospitals in northern Gaza as Israel claims, the country's Defense Forces spokesperson Lt. Col. Peter Lerner told NBC News.
What he says is a terror base "built over the course of 16 years" and laden with explosive devices "will take time to expose."
"We need to be patient," he added. 
Last night in an interview with NBC News' Lester Holt, Secretary of State Antony Blinken's language was slightly different. He said Hamas "command and control nodes are located either in or under hospitals."
Hamas and many doctors in Gaza deny hospitals harbored Hamas.
But already Israel Defense Forces are preparing to push on, Lerner said. "Hamas are not just operating in the north," he said. "But they're continuing to launch rockets from the south. So they are targets."
Having urged Palestinians to move to the south of Gaza, Lerner said the IDF was now "instructing people to get out of harm's way" in the south. 
As for the hostages, Lerner said they were "a national priority." 
"We are utilizing all of the tools in our capability in order to identify where they are," he said, adding that Israeli forces were "pushing forward in order to increase the pressure on Hamas because we believe that that will retrieve a better result for the hostage relief or rescue."
Pope to meet relatives of hostages and Palestinians
Pope Francis will meet with relatives of hostages taken to Gaza and separately with relatives of Palestinians suffering in the ongoing Israeli bombardment, the Vatican said.
The meetings will take place Wednesday when the pope holds a general audience with the public at the Vatican, said Matteo Bruni, director of the Vatican press office.
"With these meetings, of an exclusively humanitarian nature, Pope Francis wants to demonstrate his spiritual closeness to the suffering of each one, because, as already stated at the end of the Angelus recitation last Sunday, 'Every human being, whether Christian, Jew, Muslim, of any people and religion, every human being is sacred, precious in the eyes of God and has the right to live in peace,'" Bruni said.
IDF says it has taken a Palestinian Islamic Jihad outpost
The IDF said it has taken over an outpost belonging to the Palestinian Islamic Jihad.
IDF spokesperson Daniel Hagari said it destroyed the Al Burkan outpost, "eliminated the terrorists who were there" and "collected all the infrastructure."
NBC News did not independently verify the IDF's claims.
Hagari also said the IDF is continuing to deepen its operation at Al-Shifa Hospital.
"Today we located more underground infrastructures and collected every piece of information about the abductees," he said, not specifying where these underground infrastructures were found.
Hagari said "the battle in Gaza is complex and requires time."
"We are determined and continue to destroy, kill terrorists and eliminate everything that remains of the infrastructure of the Hamas organization," he said.
Blinken: Fuel must go into Gaza
Israel's agreement today to allow 140,000 liters of fuel into Gaza every 48 hours follows almost two weeks of pressure from the U.S., a senior state department official told NBC News, including calls from Secretary of State Antony Blinken.
A humanitarian disaster is unfolding in the territory with more than 1 million people displaced and more than 13,000 dead.
The U.S. expected the fuel to go in today, but the delivery will be delayed until tomorrow because of an issue on the Egyptian side in positioning the trucks.
The U.S. had reached a preliminary agreement with Israel on the plan to deliver fuel through the Rafah crossing more than a week ago and was waiting for a war Cabinet vote. The U.S. has been pushing Israel to follow through ever since their initial agreement. However, a senior State Department official said Israel continued to delay, arguing that southern Gaza had not yet run out of fuel and hoping that a hostage deal would come through first.
Blinken called Israeli Senior Adviser Ron Dermer on Wednesday and made clear that Israel could not wait any longer, warning that Gaza was on the verge of a humanitarian catastrophe. Dermer agreed that they would vote on the plan. Yesterday, the United Nations warned that the lack of fuel is jeopardizing "the entire architecture of the humanitarian response" in Gaza, and raw sewage is now flowing in the streets. Yesterday afternoon, Blinken called Minister Benny Gantz, reiterating Israel could hold off no longer, that a hostage deal may or may not come but waiting even a week was too long.
About 20,000 of the liters will be used for the UNRWA trucks doing delivery of humanitarian assistance inside Gaza, as well as desalinization, well pumping, sewage pumping, solid waste disposal, bakeries and hospitals in the south. The other 20,000 liters is for the generators that power cell communications, cellphones and internet.
Situation in Gaza is 'intolerable,' Bahrain's crown prince says as he calls for a two-state solution
MANAMA, Bahrain — Bahraini Crown Prince Salman bin Hamad Al Khalifa condemned both Hamas and Israel in a hard-hitting speech, calling for a two-state solution once the war was over. 
Speaking at the IISS Manama Dialogue, a security summit in his home country, Al Khalifa said the situation in Gaza was "intolerable and we must do everything in our power to stop it." 
"Let me be extremely clear, what matters is that there must be no forced displacement of Palestinians in Gaza," he said, adding that "there must be no terrorism directly from Gaza against Israel."    
"Those are the red lines," he said, adding that the U.S. and other world powers should help to find a two-state solution, which "must be a center of any post-crisis government in the immediate aftermath of the war."  
Gaza death toll surpasses 12,000, including 5,000 children, Gaza media office says
The death toll in Gaza has surpassed 12,000, according to the media office of the Hamas-controlled government.
This includes 5,000 children and more than 3,000 women, the media office said. More than 3,700 people are missing, including 1,800 children who are thought to be under the rubble.
Around 200 doctors, nurses and paramedics were also killed, according to the media office.
Around 255 schools, 76 mosques and 95 government headquarters have been destroyed by Israeli bombardment. As many as 25 hospitals and 52 health centers are out of service, and 55 ambulances were also targeted by airstrikes, according to the media office.
The media office said that hospitals in Gaza "only provide health services to the sick and wounded," and Israel's claims that Hamas is storing weapons and military gear within them are "false lies that do not deceive anyone."
"The Palestinian Ministry of Health in the Gaza Strip had asked dozens of times from all institutions, organizations, international bodies and relevant parties to form technical teams to visit and inspect all hospitals in the context of refuting the false inflammatory narrative of the Israeli occupation that it has been using for years," the media office said.
NBC News could not independently verify claims of weapons stored in hospitals.
The media office called on the international community to apply pressure on Israel to end its raid on Al-Shifa Hospital and open the Rafah crossing to allow aid in.
The Gaza Media Office also called Israel's cutting off communications and internet from the enclave "works to hide war crimes committed by the occupation army."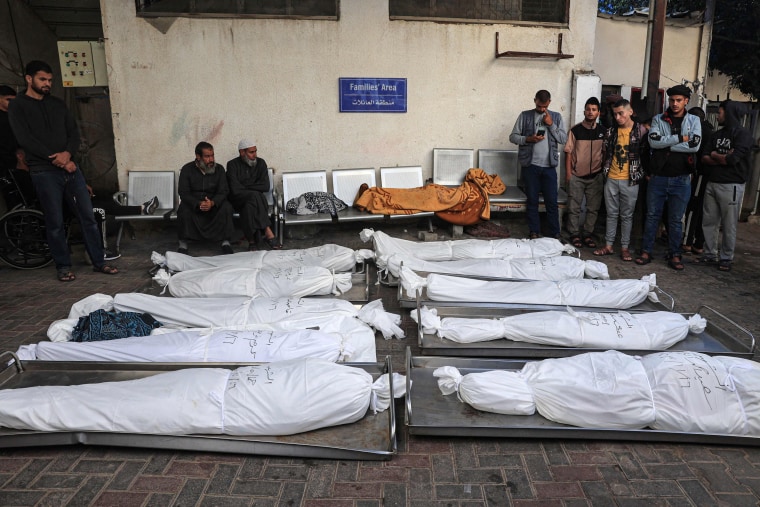 Life has 'completely changed,' injured Pennsylvania teen says as she returns from Gaza
TEL AVIV — She is flying from Gaza to her home in rural Pennsylvania today with a life-changing injury. Farah Abuolba, 17, told NBC News yesterday that she lost two fingers on her left hand when a blast exploded near the bus in which she was traveling along Gaza's coastal road earlier this month.  
"My life has completely changed now," she said, adding that she needed her mom's help with simple tasks such as tying her hair and putting on a bandanna.
After the bomb struck, Farah said she was left with cuts on her head and her clothes filled with blood. "I knew I was losing circulation," she said. "I felt dizzy. But I stayed strong and I didn't scream, I didn't cry, didn't do anything. I just kept praying." 
She said she was taken to the Al-Quds Hospital where cats roamed the corridors, along with those seeking shelter from Israeli bombardment.  
Now, she said she was "thinking about my family that's back home in America, how now I can finally go back home."
The WHO voices concern over spread of disease in Gaza
GENEVA — The World Health Organization said today that it was very worried about the spread of disease in Gaza as weeks of Israeli bombardments have led to the population crowding into shelters with scarce food and clean water.
"We are extremely concerned about the spread of disease when the winter season arrives," said Richard Peeperkorn, the WHO's representative in the occupied Palestinian territory.
He said that more than 70,000 cases of acute respiratory infections and more than 44,000 cases of diarrhea had been recorded, figures higher significantly higher than expected.
The WHO has previously warned of "worrying trends" in the spread of disease in Gaza, where bombardments and a ground offensive have disrupted the health system, access to clean water and caused people to crowd into shelters.
Satellite photos show evacuations in Gaza
Palestinians gather along Salah al-Din road today in southern Gaza as they attempt to flee south along the evacuation corridor.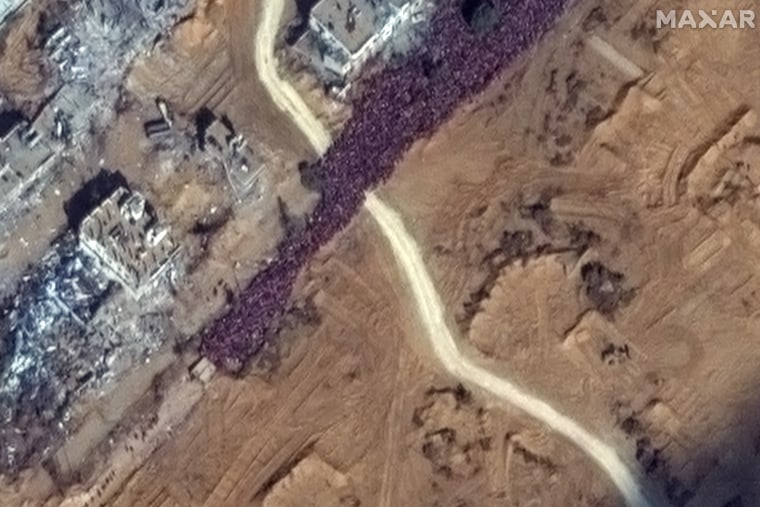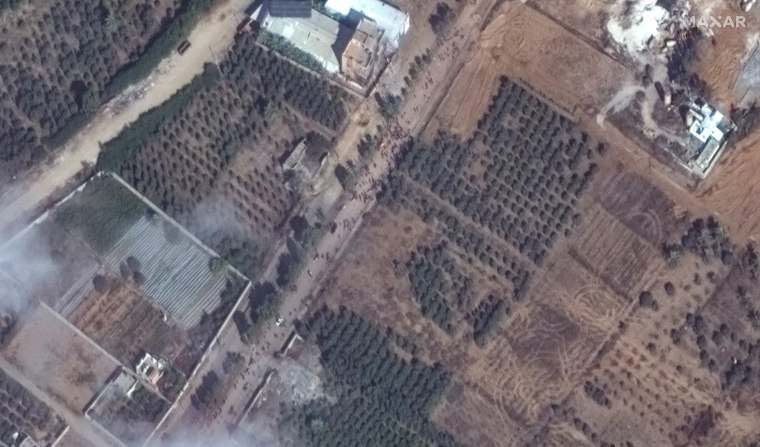 U.N. says Israel is using water as 'a weapon of war'
The U.N. said the lack of fuel in Gaza has led to catastrophic consequences, creating water, sanitation, health care and communications crises for the civilian population.
"Israel must stop using water as a weapon of war," said Pedro Arrojo-Agudo, the U.N. special rapporteur on the human rights to safe drinking water and sanitation. He added that depriving civilians of basic necessities with the intent of "destruction, is an act of extermination and classified as a crime against humanity." 
The U.N. estimates that 70% of the population in Gaza is drinking contaminated water.
"Every hour that passes with Israel preventing the provision of safe drinking water in the Gaza Strip, in brazen breach of international law, puts Gazans at risk of dying of thirst and diseases related to the lack of safe drinking water," Arrojo-Agudo said.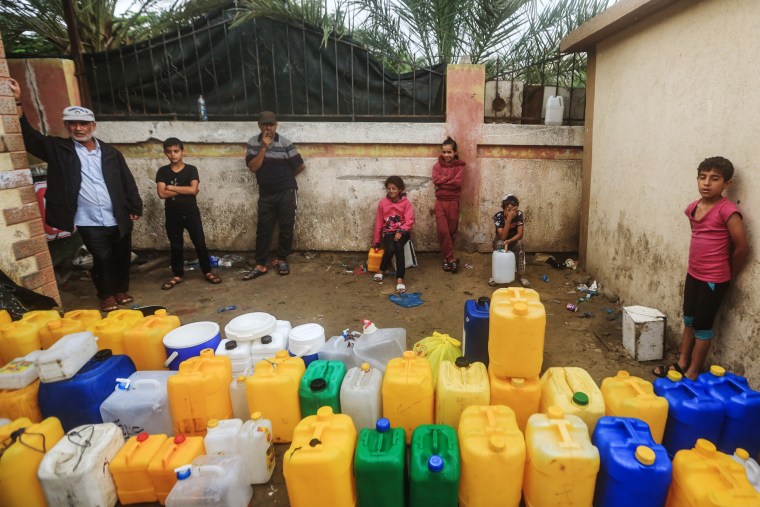 South Koreans pay tribute to Gaza victims
Shoes are arranged as a symbol of Palestinian victims during a rally for Gaza in Seoul, South Korea, today.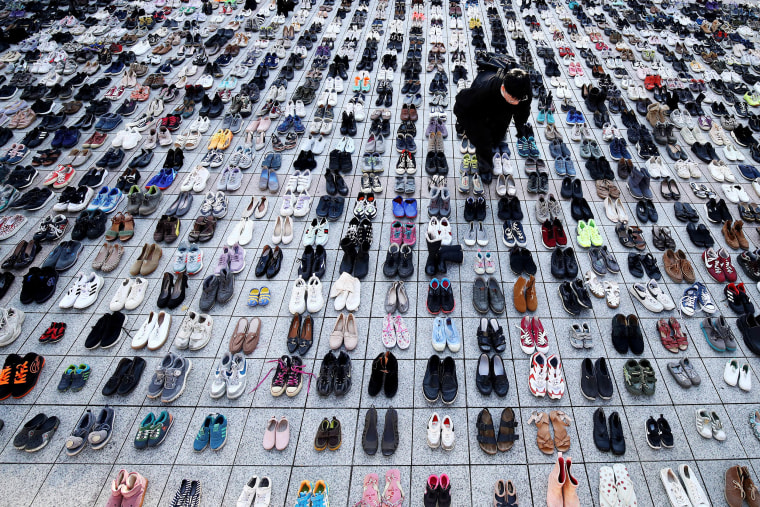 Pro-Palestinian demonstrators enter Fox News building in NYC
A group of protesters supporting Palestinians entered the News Corp building, which houses Fox News headquarters, today in New York City.
The protesters could be seen in the lobby clapping and chanting "Fox News, Fox News, you can't hide, your lies cover up genocide." Some were carrying a large sign that read "Fox News' lies cover up genocide," as well as a Palestinian flag.
As many as 16 people were taken into custody, according to the New York City Police Department.
Dozens of ICU patients have died at Al-Shifa Hospital, surgeon says
TEL AVIV — Dozens of intensive care unit patients have died at the Al-Shifa medical complex which serves as Gaza's main hospital, a plastic surgeon at the facility told NBC News today.
Dr. Ahmed El Mokhallalati said that 43 out of 63 patients, who were on ventilators in the ICU, have died over the last week.
Six days ago, there were 42 premature babies at the hospital and now there are 36, he added.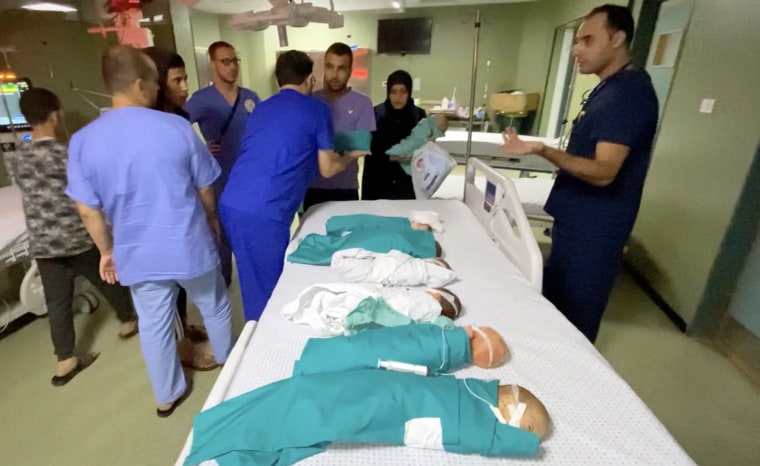 "It's really horrible, totally terrifying situation here," he said. "It's totally civilian hospital here with a group of us, the medical staff, the patients and some civilians, totally surrounded by the Israeli troops, by the tanks. We can't move outside the building."
The Israeli military raided the facility two days ago and has said a Hamas command center is based there. Hamas and doctors have forcefully denied this.
Mokhallalati said the military was preventing medical staff and patients from moving around the hospital.
He added that there was no electricity, water or oxygen supply at the hospital and a lack of oxygen means they can only provide patients who need surgery with minimal sedation.
IDF soldiers have provided some sandwiches and drinking water to the hospital, but only enough for about 30% of the hospital's occupants, he said.
Hundreds march in Israel to demand urgent action over hostages
Hundreds of people, including relatives of hostages held in Gaza, joined a march calling for their release as they headed toward Jerusalem today.
They plan to rally outside Israel's parliament, the Knesset, later.
Iran does not want war to spread but issues warning, diplomat tells the Financial Times
Iran has used back channels to tell the U.S. that it doesn't want the war to escalate, but conflict in the region was still a possibility if Israeli attacks continue, the country's top diplomat told the Financial Times today.
"In response to the U.S., we said that Iran does not want the war to spread, but due to the approach adopted by the U.S. and Israel in the region, if the crimes against the people of Gaza and the West Bank are not stopped, any possibility could be considered, and a wider conflict could prove inevitable," Hossein Amirabdollahian.
In October, the U.S. moved two carrier strike groups closer to Israel in a move largely seen as an effort to deter further unrest in the region.
"Our military officials are of the opinion that the deployment of U.S. aircraft carriers near our region, which makes them accessible, is not a strong point for the U.S. Rather, it makes them more vulnerable to possible strikes," Amirabdollahian added.
Photo shows wounded girl carried from rubble after bombardment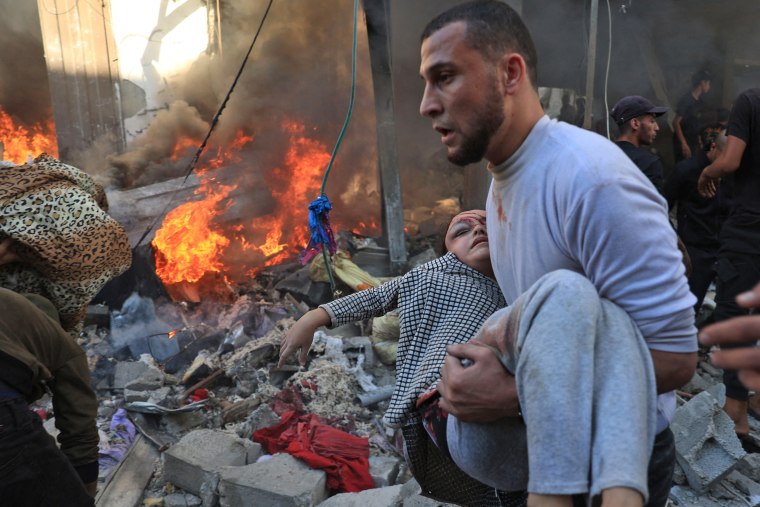 A man evacuates a wounded girl after a bombardment today in Rafah in the southern Gaza Strip.
More than 2,800 arrested by Israeli forces in the occupied West Bank since Oct. 7, Palestinian groups say
TEL AVIV — At least 47 Palestinians in the occupied West Bank were arrested overnight into today, bringing the total to 2,800 since the Hamas attacks of Oct. 7, two Palestinian groups said.
The Commission for the Affairs of Prisoners and Ex-Prisoners and the Palestinian Prisoners Club said in a statement today that last night's arrests were mainly in the town of Ni'lin/Ramallah, while the rest were in Jenin, Hebron and Jerusalem.
"The arrest campaign was accompanied by widespread harassment, severe beatings, field investigations, and threats against detainees and their families, in addition to widespread sabotage and destruction of citizens' homes, and intimidation and threats against citizens," the statement said.
The groups said that the arrest of Palestinians has been a long-standing element of life in the West Bank, but one that has "escalated significantly" since Oct. 7.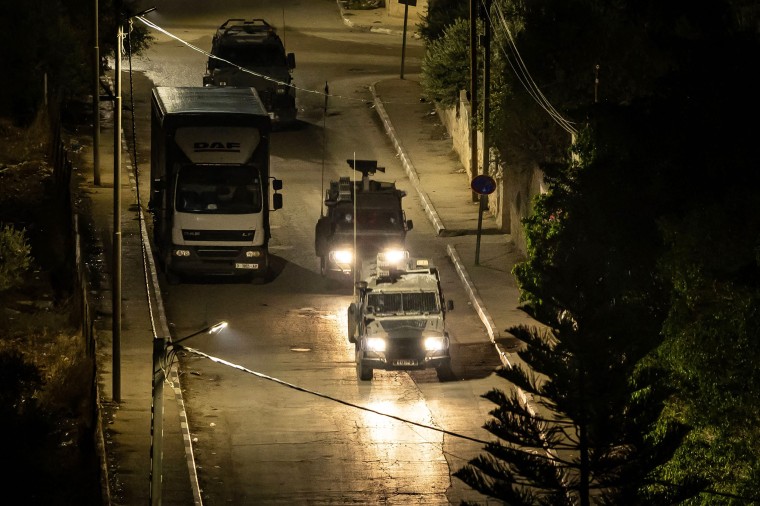 Dozens of injured Palestinians rushed to hospital after explosion near Khan Younis
Dozens of Palestinians were rushed to the Nasser Hospital after an explosion to the east of Khan Younis in the southern Gaza Strip today.
Children were among those brought to the medical facility in a variety of vehicles, including cars and pickup trucks.
IDF says it hit Hezbollah targets in Lebanon
Israeli fighter jets have carried out strikes on multiple targets within Lebanon, the IDF said today, adding that they hit "terrorist infrastructure" controlled by the militant group Hezbollah.
A weapons warehouse was among the targets, as well a "terrorist cell" in the Arab al-Aramsha area, spokesman Daniel Hagari said on X this morning.
NBC News could not independently verify his claims.
Hagari also referred to the strikes across Israel's northern border in a media briefing last night. "We are continuing to strike back immediately in response to any attempt to fire from Lebanese territory," he said. He added there had been missile attacks from Lebanon into the Israeli border towns of Malkia and Menara.
IDF warns people in four northern Gaza neighborhoods to evacuate
The IDF called for people in four neighborhoods in northern Gaza to evacuate south via the Salah Al-Din road, saying they should do so until 4 p.m. local time "to preserve your safety," according to an IDF post in Arabic on X.
It also said it would pause military activities from 10 a.m. to 2 p.m. local time in "the western Rafah area and in the Tal Al-Sultan neighborhood."
"Do not surrender to the dictates of Hamas, which has lost control over the northern Gaza Strip and is trying to prevent you from moving south and protect yourselves," the post said.
Florida sued over ban on pro-Palestinian student groups
The American Civil Liberties Union challenged Florida's ban on pro-Palestinian university groups, arguing in a federal lawsuit yestersday that the state is violating students' free speech as tensions roil U.S. campuses over Israel's war with Hamas.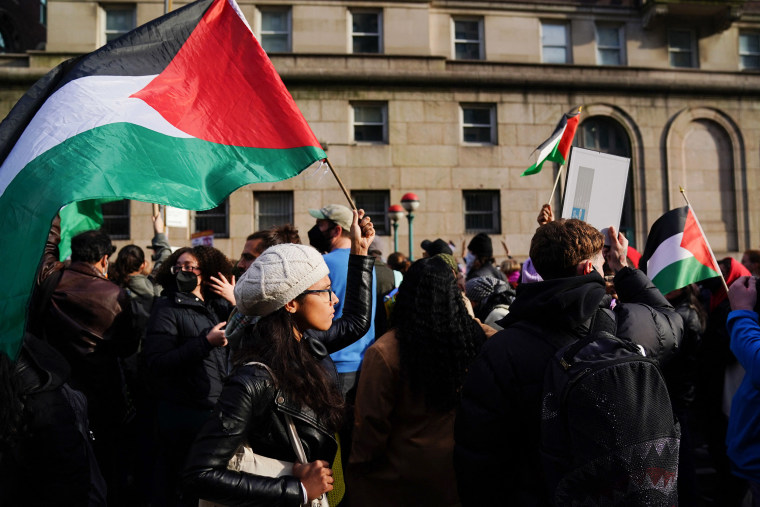 Florida's university system, joined by Gov. Ron DeSantis, last month ordered colleges to shut down chapters of Students for Justice in Palestine (SJP), a group at the center of U.S. campus activism since Hamas attacked Israel on Oct. 7.
The lawsuit — against DeSantis, a 2024 Republican presidential hopeful, and several state university system officials — was filed on behalf of the University of Florida's SJP chapter and seeks a preliminary injunction to a state order blocking SJP from receiving school funds and using campus facilities.
IDF now urges some residents of southern Gaza to evacuate
The IDF has urged residents of several neighborhoods in Khan Younis in southern Gaza to evacuate, according to a leaflet obtained by an NBC News crew.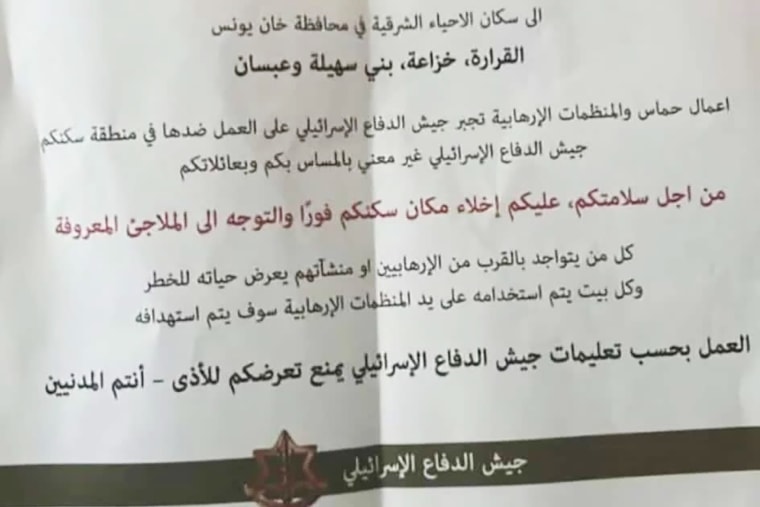 "The actions of Hamas and the terrorist organizations force the IDF to act against them in your area of residence," the leaflet obtained yesterday reads in Arabic. "For your safety, you must evacuate your place of residence immediately and go to known shelters," the leaflet adds, without specifying where exactly the safe shelters can be found.
For weeks, Israeli forces have told residents in the north of the enclave to move south for their own protection, while at the same time continuing to strike southern Gaza.
Medics at hospital in occupied West Bank ordered to walk outside with hands raised
Israeli forces ordered medics at Ibn Sina Hospital in the occupied West Bank to walk outside with their hands raised as the military searched the facility.
The IDF raided the town of Jenin, leaving a number of people killed and injured.
Blinken: Israel's attacks on hospitals are 'ground operations, not bombardments'
When pressed by NBC News' Lester Holt on claims by Israel and the U.S. that Hamas is operating a command and control center under Al-Shifa Hospital in northern Gaza, Secretary of State Antony Blinken said that the U.S. has information that Hamas embeds in civilian infrastructure.
"Two things: One, exactly why there should be assault rifles located next to an MRI machine escapes me and this is compelling evidence of the fact that Hamas embeds itself in civilian infrastructure of one kind or another," Blinken said. "We have our own information that command and control nodes are located either in or under hospitals."
Asked further about Israeli attacks on the hospitals, Blinken insisted that "what's going on now are ground operations, not bombardments." He then reiterated that there have been too many Palestinians killed and that the U.S. continues to urge Israel to minimize civilian casualties.
Funeral held for Israeli soldier
People attend the funeral of Noa Marciano, an IDF soldier, at a cemetery in Modi'in-Maccabim-Re'ut, Israel, today.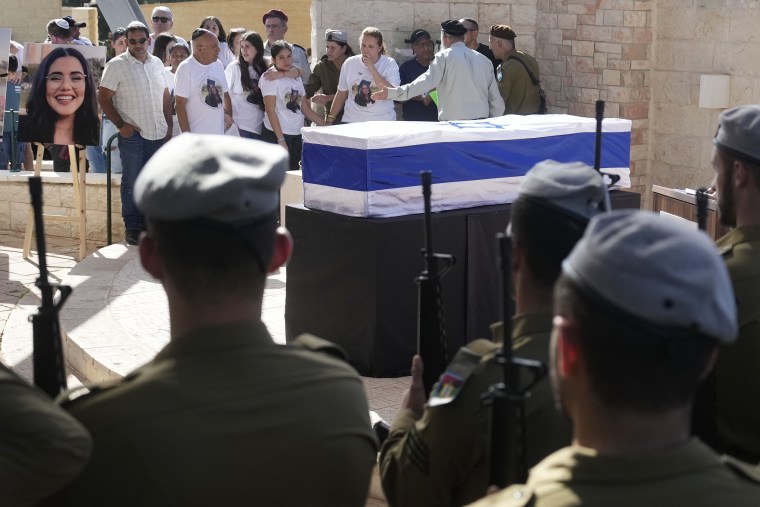 Blackout appears to continue as U.N. warns that Gazans are cut off from the world
It appears the complete telecommunications blackout throughout the Gaza Strip continued today because of fuel shortages. The U.N. warned that the enclave's 2 million residents are now cut off from the rest of the world.
Yesterday, Palestinian telecommunications company Paltel said on X that all telecommunications services in the Gaza Strip have gone out of service as all energy sources sustaining the network have been depleted. There have been no updates from Paltel since.
"People in the Gaza Strip were completely isolated again last night in the fourth communications blackout during this war," UNRWA, the U.N. Palestinian refugee agency, said on X today. "Gazans are completely cut off from their loved ones and the rest of the world."
NBC News has been unable to reach doctors at Al-Shifa Hospital since yesterday. The hospital has been raided by the Israeli army in recent days.
The fuel shortages, caused by a complete blockade of Gaza by Israel, have also disrupted aid delivery, health care and sanitation systems.
IDF 'close to dismantling the military system' in northern Gaza, chief of staff says
The Israeli military is "close to dismantling the military system in the northern Gaza Strip," its chief of staff said today.  
Quoted in a Telegram post from the IDF, Lt. Gen. Herzi Halevi said that there was still "work to be completed." 
He added that more of the enclave's regions would be targeted, "systematically eliminating commanding officers and eliminating operatives, and eradicating the infrastructure," the Telegram post said.   
Civilians in Gaza are at risk of starvation, U.N. says
Those in Gaza risk starvation given the lack of food and water, according to the United Nations World Food Programme.
"Supplies of food and water are practically non-existent in Gaza and only a fraction of what is needed is arriving through the borders. With winter fast approaching, unsafe and overcrowded shelters, and the lack of clean water, civilians are facing the immediate possibility of starvation," Executive Director Cindy McCain said in a statement.
The organization said the amount of food supplies that has entered Gaza since the beginning of the war only accounts for 10% of what's needed. The only passage into and out of Gaza at Rafah isn't enough and McCain pushed for the opening of another way to get supplies into Gaza.
Grief as bodies await collection in southern Gaza
Palestinians mourn overs bodies outside a morgue in Rafah, in the southern Gaza Strip, this morning.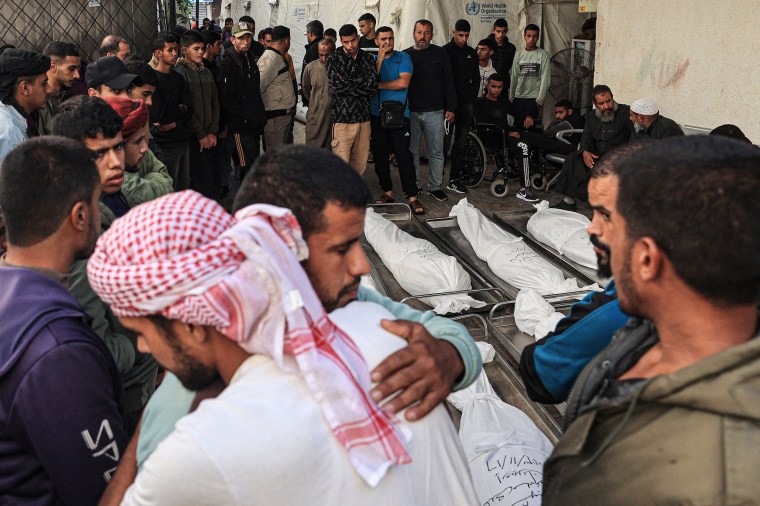 IDF searches hospitals in northern Gaza
Israeli forces released video claiming to show an operation tunnel shaft and a vehicle they said contained "a large number of weapons" at the Al-Shifa medical complex, Gaza's largest hospital.
Troops were also searching nearby Rantisi Hospital, where they "continued to unearth an operational tunnel," and Al-Quds Hospital "where weapons and ammunition were located," the IDF said in a statement.
NBC News has not confirmed the IDF's claims.
While NBC News verified the location of the tunnel shaft in Al-Shifa, video, photographs and statements released by the IDF so far do not appear to show definitive evidence that a Hamas command center exists beneath the hospital, a claim that Israeli officials have repeatedly made and Hamas and doctors at the hospital have forcefully denied.
Singapore fashion brand apologizes after backlash over perceived support for Israel
A fashion brand in Singapore has apologized after online backlash over its founders' perceived support for Israel.
"We do not condone the killings of thousands of innocent Palestinians. Our hearts weigh heavy and our thoughts and prayers are with them," Daniel Chew and Rebecca Ting, the husband-and-wife founders of Beyond the Vines, said yesterday in a post on Instagram, adding that they "take full responsibility for our insensitivity and mishandling of this matter."
The criticism began when social media users pointed out that Chew was following a pro-Israel Christian account on Instagram. The couple's attempts to address the fury in earlier Instagram posts and a livestream only further angered followers of the brand both in Singapore and overseas, who called for a boycott and accused the company of deleting comments and blocking users supporting Palestinians.
Chew said he had initially followed the account because of its culture, food and travel content and that he had unfollowed it recently when it became "more political and divisive in nature." In a livestream last week launching a new collection, Ting said they had been told by Meta, Instagram's parent company, that the company had a "sensitive content filter" that might delete comments or block accounts.
Israeli raid on West Bank's Jenin refugee camp leaves at least 3 dead
JERUSALEM — Three people were killed and more than 15 people injured by Israeli forces during a raid on the Jenin refugee camp in the occupied West Bank, the Palestinian Health Ministry said in a Telegram post today.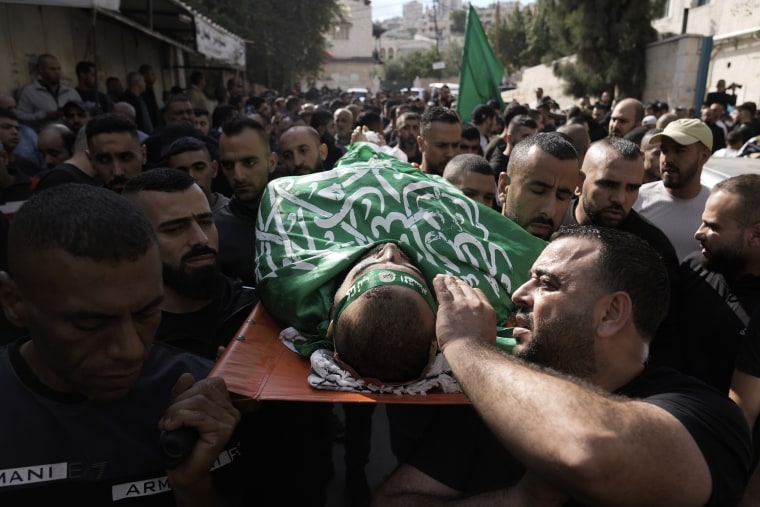 WAFA, the Palestinian news agency, reported that Israeli forces interrogated a number of paramedics at the hospital and searched ambulances in the vicinity.  The agency reported that local sources told it that the occupation forces surrounded the hospital from all sides.
NBC News could not independently verify this claim.
The Israeli military said in a statement that "an armed terrorist cell" was struck by one of its aircraft during a raid on the camp. It said at least five "terrorists" were killed.
"Additional terrorists who fired and hurled explosive devices at the security forces were neutralized during the activity," it said.  
The dead were named by the ministry as Bahaa Jamal Lahlouh, 23, Muhammad Jamal Fulu, 28, and Muhammad Azmi Al-Hassaniyah, 34.
The IDF added that it confiscated weapons, military equipment and improvised explosive devices during the raid and its forces apprehended "eight wanted suspects." In a separate post on X the IDF said that armed men fled in an ambulance to Ibn Sina Hospital.  
NBC News was not able to independently verify these claims.
Former consul general says deal to release hostages is 'going to be one to one'
Former Consul General in New York told  Andrea Mitchell in an interview that the deal between Hamas and Israel is "going to be one to one," meaning if one Israeli gets released, one Palestinian will also be released.
He described a complex network of communication behind a possible hostage deal, saying, "Hamas is talking to Qatar, to the Qataris, we've been talking to the Americans, we've been talking to the Israelis, will then divulge some information to the Egyptians who go back to the Americans and so on and so forth." He added, "this is not a negotiating table." 
On which hostages would be released and how many, he said, "so we're looking at 50, 60, maybe up to 100 people. That would include people with dual citizenships, several, several dozens rather, of foreign workers."
He said the deal "probably does not include IDF soldiers, whether male or female." 
"Hamas is asking for a five-day ceasefire, to which Israel reportedly has not agreed," Pinkas added. "Israel was saying three days maximum and even the three days are meeting some opposition in the IDF, which thinks we should, Israel should not agree to such a lengthy ceasefire."
Netanyahu: Indications that hostages had been held at hospital
Israeli Prime Minister Benjamin Netanyahu has said that hostages were being held at Al-Shifa Hospital in Gaza before the Israel Defense Forces arrived to begin a military operation there.
"We have strong indications that they were held in Shifa Hospital, which is one of the reasons we entered the hospital, but they were taken out," he told CBS News in an interview last night.
Netanyahu offered no evidence to corroborate the claim that hostages were held at the hospital, nor any new evidence that the site was being used as a military command center, an accusation rejected by Hamas and doctors at the complex. There was no firefight when the IDF arrived at Al-Shifa, he said, because Hamas' fighters had fled in advance.
Asked where the hostages are being held now, the prime minister hinted that his military is aware but would not confirm any details. "We have intelligence… but the less I say about it the better," he said.
On the question of a cease-fire — which has been called for at protests and demonstrations in the United States and across the world — Netanyahu repeated that this would only happen "if we can get our hostages back."
Photos: Protesters call for a cease-fire on a San Francisco bridge
On the bridge connecting San Francisco and Oakland, protesters calling for a cease-fire in the Israel-Hamas war held up traffic for a time while President Joe Biden was at the Asia-Pacific Economic Cooperation summit.
Police soon descended to clear the gridlock.