Hostage deal reached to release 50 people being held captive by Hamas
A deal has been reached to release some of the hostages kidnapped during last month's deadly Hamas terror attack in Israel — the most significant diplomatic breakthrough since Oct. 7.
Fifty women and children who have been held captive for more than a month will be released first, over a period of four days, in exchange for Israeli-held Palestinian women and children, Qatar said in an announcement early Wednesday. The number of those released will be increased in later stages of the agreement, said Qatar, who worked alongside the U.S. and Egypt to broker the deal.
Three Americans could be part of the first group of hostages released: two adults and a 3-year-old girl named Abigail, according to a senior Biden administration official.
In return, there will be a four-day pause in fighting to allow for the hostage-prisoner exchanges to take place, a senior Israel official said ahead of the announcement. More fuel trucks will also be allowed to enter Gaza, plus as many as 300 to 400 trucks carrying humanitarian aid per day.
Per the agreement, Israeli drone flights over Gaza will be suspended for up to six hours per day as Hamas consolidates the remaining hostages, the Israeli official said. Some captives are being held by other militant groups, including Palestinian Islamic Jihad.
There is an option to extend the cease-fire for extra days in return for 10 hostages per day, an official said.  
Additionally, according to an Israeli official briefed on the proposed deal, the Red Cross is expected to be allowed access to the hostages who remain in Gaza, including to provide them medicine.
Israel's government approved the deal early Wednesday local time, when the outline passed by a majority of votes.
"Since the start of the escalation, Qatar has been working tirelessly with regional and international partners to try to reduce tensions, protect civilians from harm, and prevent a regional spillover," said Mohammed Al-Khulaifi, who leads Qatar's Ministry of Foreign Affairs. "This agreement is the first time both sides have agreed to support the diplomatic track over continued fighting, which has inflicted so much pain and suffering on innocent civilians."
The agreement capped what the Biden administration official described as an "extremely excruciating five-week process" to free the hostages.
President Joe Biden was directly involved in the negotiations and received hourly updates on the progress, the administration official said. Among the sticking points were Israel's requirement that Hamas provide identifying information and "proof of life" for the hostages, and Hamas' demand that fuel enter Gaza.
Before the deal was announced, Israeli Prime Minister Benjamin Netanyahu stressed that it does not mean the war with Hamas is over.
"We are at war, and we will continue the war until we achieve all our goals — to eliminate Hamas, to return all our hostages and missing persons, and to guarantee that there will be no factor in Gaza that threatens Israel," Netanyahu said in remarks delivered Tuesday ahead of the cabinet vote.
"There are stages in a war and there are also stages in the return of the abducted," he added.
The 240 people Hamas took captive during its terror attack, in which some 1,200 people in Israel were killed, have been a major focal point in a war that has cost many thousands of lives and caused devastation across the Gaza Strip over the last six weeks.
However, Israeli law mandates that families of the victims of attackers held in Israeli jails have a right to appeal a deal involving the prisoners' release to the Supreme Court within 24 hours. So the deal is not final until that period closes.
Only four hostages have been released thus far: Nurit Cooper, 79; Yocheved Lifshitz, 85; and two Americans — Judith Raanan and her teenage daughter, Natalie. Israeli forces also freed a soldier who'd been taken captive, 19-year-old Pvt. Ori Megidish.
Last week, two hostages were confirmed dead by the IDF: Yehudit Weiss, 65, a mother of five captured in Kibbutz Be'eri, and soldier Noa Marciano, 19. Their bodies were found near the Al-Shifa Hospital in northern Gaza, the IDF said.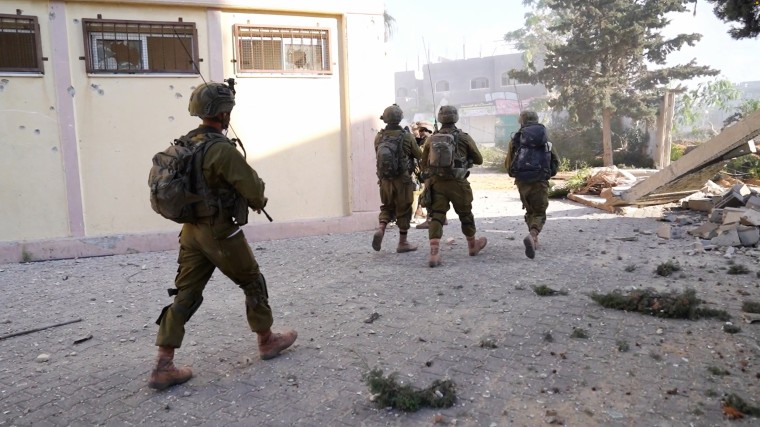 If the deal goes through, the hostages are released and the temporary cease-fire holds, the expectation is that another round of hostages could be released after Hamas can round up the remaining captives.
The deal comes after weeks of closely guarded negotiations in Qatar, which along with the United States has acted as a broker between the two sides.
As that process played out, the Gaza Strip has endured fierce fighting and daily bombardment from the air; Israel's military said early Tuesday morning that its aircraft had hit 250 suspected Hamas targets over the prior day alone.
More than 1.6 million people have been displaced in Gaza during the fighting, and health officials there say the death toll has surpassed 13,000.
On Tuesday, the Israel Defense Forces said they had encircled Jabalia, a heavily built-up urban area of Gaza that houses the enclave's largest refugee camp. The camp, formed after the 1948 war, is home to 116,000 people, according to the United Nations. The IDF said in a statement on X (formerly Twitter) that it had found "terrorist" infrastructure, including tunnels, in the outskirts of the area, while its tanks and armed drones battled Palestinian militants.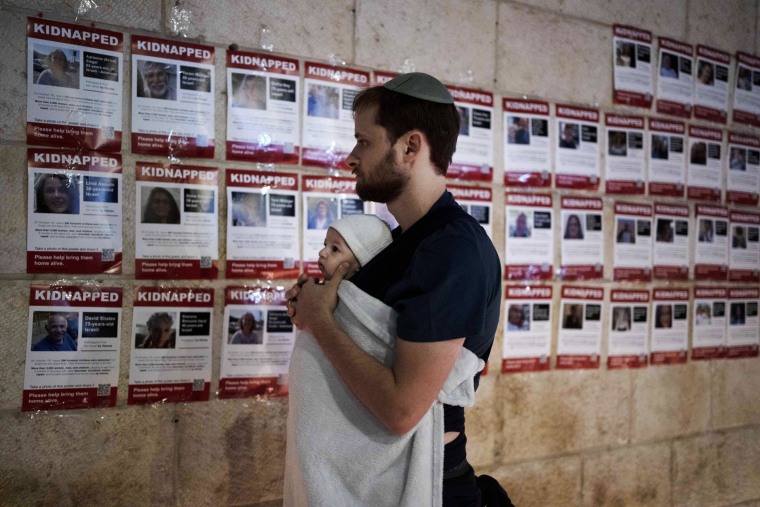 But behind the scenes, both sides were working towards securing a humanitarian pause in the fighting — following weeks of calls from world leaders, aid agencies and demonstrators across the globe.
Hamas said in a statement on its website late Monday that the group had submitted its response to the mediators, was awaiting Israel's answer and was "close to reaching a truce agreement." Dr Majed Al-Ansari, spokesman for Qatar's Foreign Ministry, confirmed that a proposal was delivered to the Israeli side on Tuesday morning.
Netanyahu, despite growing international pressure, repeatedly refused to consider a cease-fire without the release of hostages. Israel agreed on Nov. 10 to facilitate 4-hour pauses in fighting to allow humanitarian aid to be delivered.