Honey Boo Boo's sister Anna 'Chickadee' Cardwell dies aged 29 | Ents & Arts News
The sister of reality TV star Honey Boo Boo has died aged 29 after battling stage four adrenal cancer.
Anna "Chickadee" Cardwell died peacefully at her mother "Mama June" Shannon's home on Saturday night, according to her family.
Cardwell was a common fixture on reality TV alongside her family, which includes her half-sisters Jessica "Chubbs" Shannon, Lauryn "Pumpkin" Efird and Alana "Honey Boo Boo" Thompson.
In a social media post announcing Cardwell's death, her mother wrote: "She gave one hell of a fight for 10 months… she passed away with her family around her.
"We love y'all and continued prayers and thoughts for our family doing this difficult time."
Shannon told Entertainment Tonight about her daughter's diagnosis in July, adding she had undergone four rounds of chemotherapy by the time of the interview.
"We don't know what to expect because the cancer is very aggressive and it grew from nothing to something huge on the left side of her body really fast," she said, adding the family had accepted the cancer was terminal and was now taking it "one day at a time".
Shannon had updated her Instagram followers on Cardwell's health via a video several days before her death, saying "some things have changed in our lives over the last few weeks that are totally out of our control".
Read more:
Tennis legend says ovarian cancer has returned
Stephen Fry broke pelvis, hip, leg and ribs in O2 stage fall
"When that time does come," Shannon added, "we will also as a family come to y'all on social media because Anna would not have it any f****** other way."
Cardwell, who first appeared with her family in Toddlers And Tiaras and later starred in Here Comes Honey Boo Boo, is survived by her two young daughters, Kaitlyn and Kylee.
Thompson also updated her 1.2 million Instagram followers the day after Cardwell's death.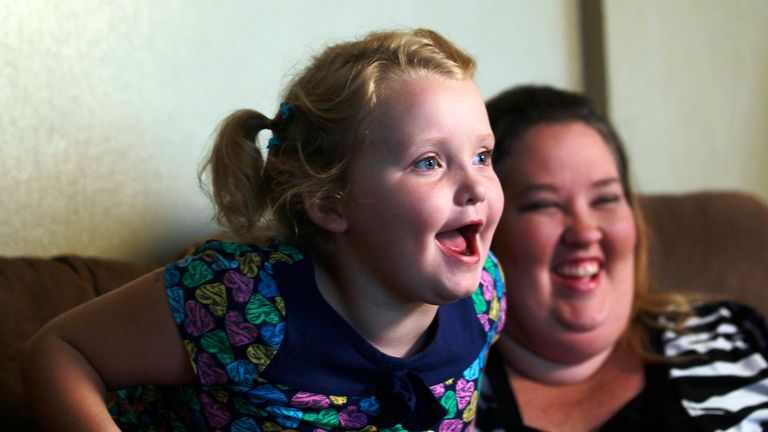 The 18-year-old said: "Last night we all surrounded Anna with love and let her know it was okay to go.
"Unfortunately around 11pm Anna took her last breathe. Anna was in so much pain last night but now as a family we all know she is at peace now."
The reality star said her "heart is completely broken" and highlighted the strength of her late sister.
"I would've loved for you to get to see me graduate college but I know you will forever cheer me on in heaven," she added.