Gazans welcome deal to pause fighting but dread what may come afterward
Per the agreement, announced early Wednesday morning local time, 50 women and children taken hostage by Hamas during its Oct. 7 attack will be released, as well as 150 Palestinian women and children held in Israeli jails. If all goes according to plan, the deal would bring a four-day pause in fighting and enable hundreds of aid trucks to enter the Gaza Strip.
Those would be major developments after weeks of intense violence.
But for Palestinian human rights activist Khalil Abu Shamala, the temporary truce is far from enough.
"We don't need … don't hope just for a cease-fire for a few days," he told NBC News in Khan Younis. "We need to end this crisis, this genocide, this war."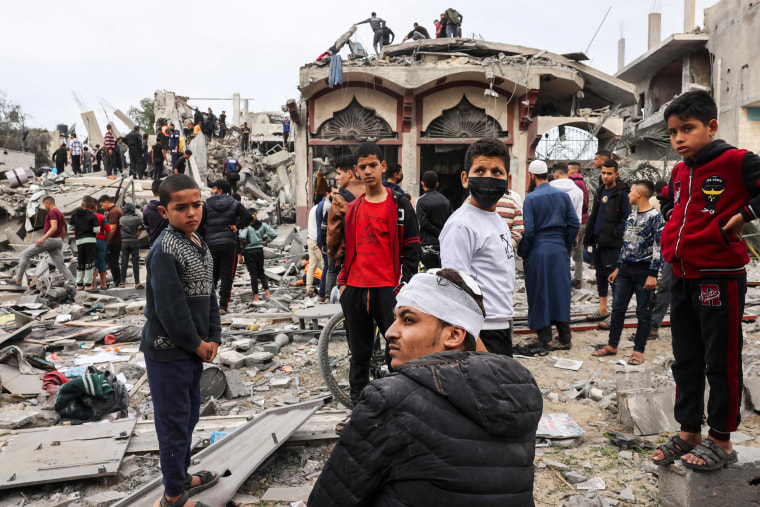 Abu Shamala said he fears for what's ahead.
"There is no critical achievements by this cease-fire," he said. "The war has not stopped yet."
Israeli Defense Minister Yoav Gallant vowed on Wednesday that military forces would resume their offensive in "full force" immediately after the cease-fire lifts, and continue to pursue Israel's goals of freeing all hostages and eliminating Hamas.
Israeli Prime Minister Benjamin Netanyahu similarly stressed on Wednesday that the war would not be over "until we meet all our objectives."
"Citizens of Israel, I want to be clear: The war continues," he said during a briefing.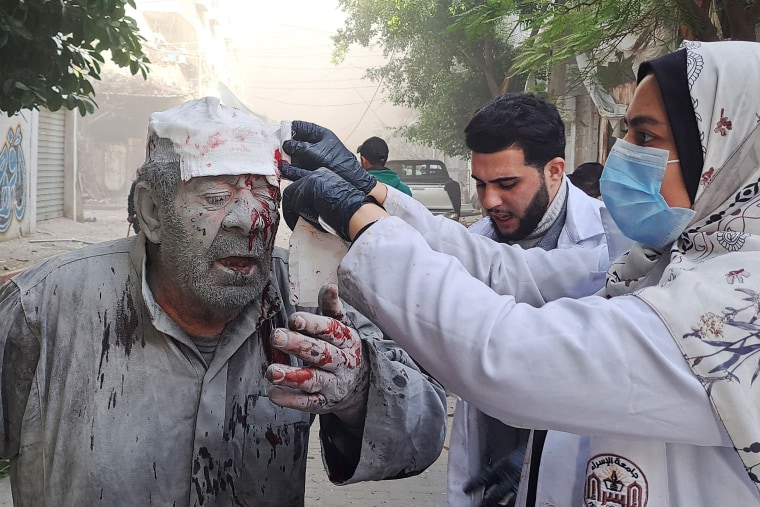 Ahead of the new agreement, Israelis had for weeks been vocally calling for their government to do more to secure the release of at least some 240 hostages taken captive in Hamas' Oct. 7 attack, which saw around 1,200 people killed in Israel, according to Israeli officials. Families of those taken captive and supporters have held regular demonstrations outside the Israel Defense Forces' headquarters in Tel Aviv.
At the same time, Israel has faced mounting pressure from the United States and many other nations over the rising death toll in Gaza, where local officials say more than 14,000 people, including more than 5,000 children, have been killed over the course of Israel's bombardment and ground offensive. More than 1.6 million people have been displaced amid the war, according to UNRWA, the United Nations agency for Palestinian refugees.
Israeli forces have for weeks told Palestinians in northern Gaza to move south, saying it is safer there, but the IDF has continued to carry out deadly airstrikes in the area. Israel says those strikes are targeting Hamas, but civilians have also been killed.
IDF spokesperson Daniel Hagari recently said Israeli forces would advance their operations "wherever Hamas exists, including in the south of the strip," according to Reuters, leading to mounting concerns that Israel will expand its offensive in the south.
Last week, leaflets were dropped in several neighborhoods of Khan Younis telling people to evacuate to known shelters.
Mustafa Barghouti, general secretary of the Palestinian National Initiative party and a veteran activist based in the occupied West Bank, said he feared that if Israel expands operations into southern Gaza, that could lead to "a huge massacre."
"When you have 2 million people clustered in less than 80 square miles or 70 square miles, if you just throw stones at them you will kill so many, so you can imagine what a bombardment would mean in this case," he said.
"I hope they don't do that," Barghouti said. "I hope that this cease-fire could be extended and that it will be prolonged — and that this will be the end of this war because we don't need more Israeli or Palestinian people killed."