Feminist consumers in China push back against the 'pink tax'
BEIJING — Li Yi prefers to buy products in pink when possible — she just likes the color.
But she held back recently when she went to buy a pair of dumbbells in the southern Chinese province of Guangdong, as the pink ones were 90 yuan ($12.50) compared with 40 yuan ($5.60) for the regular black ones.
Li is not the only woman in China, the world's second-largest economy, who has noticed that goods and services marketed to women often come with higher prices. The country's feminists refer to the phenomenon as the "pink tax," a term that originated in the United States and is becoming increasingly well known in China.
The hashtag #PinkTax has attracted millions of views on Chinese social platforms, where women share their experiences of rejecting higher prices. The issue has come up again amid a major annual online shopping event in China known as Singles Day, or Double 11, which ends Nov. 11.
"I feel that buying pink means voluntarily being treated differently by gender," said Li, a 22-year-old college student. "I can't give up my preference, while I don't want to pay more for the premium."
Not just about pink
The pink tax is about more than just color. It can be used to describe a broad range of discrimination against female consumers. 
A particular focus of women's ire in China and elsewhere is the cost of menstruation. An online campaign this fall encouraged the Chinese government to drop a 13% tax on menstrual products as it considers a new law on value-added taxes, arguing they should be considered basic necessities.
The 13% rate is the same as for tobacco, and it's several percentage points higher than items deemed essential such as grain and water.
For women on tight budgets, the added cost can mean going without menstrual products at all, said Nancy Qian, an economics professor at the Kellogg School of Managerial Economics and Decision Sciences at Northwestern University.
"Instead of being able to use sanitary pads that are sold in modern stores, a large number of females have to resort to things that women used historically and that lead to health issues," she said.
"What it means is that it costs women more to be healthy than men," she added. "That's very unfair."
Previous appeals to the government for menstrual tax relief have been rejected.
In the United States, menstrual products are exempt from taxation in about two dozen states, including New York, California and Texas, according to Alliance for Period Supplies, a nonprofit group that aims to end what's known as "period poverty."
Awakening feminist consciousness 
Opponents of unequal pricing in China discuss potential strategies in a group called "Pink Tax Resisters Alliance" on Douban, the country's equivalent of Reddit and IMDb. Established in 2020, the group has grown to almost 30,000 members.
"Women define feminine," one group member wrote. "Not feminine defines women."
China's feminist movement has grown stronger as more women enter the workforce — the number of women employed in urban China has increased almost 40% in the last 10 years.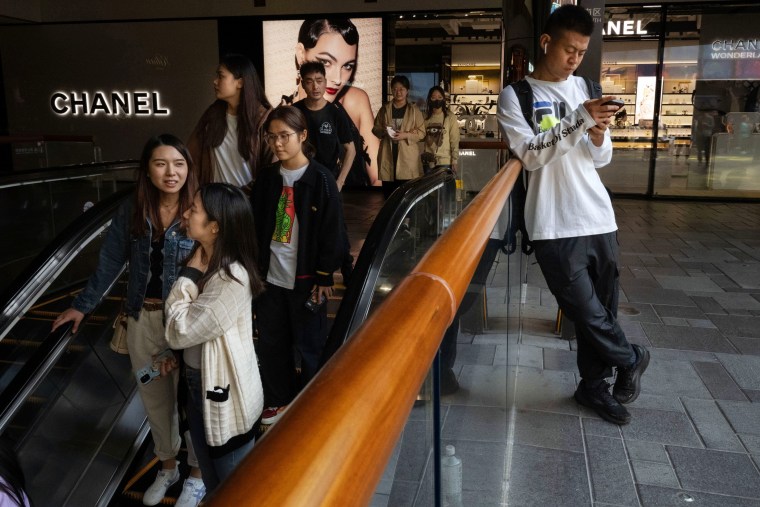 But even as feminism ascends, the Chinese government is embracing a more traditional stance, driven in part by concerns about the country's record-low birthrate. Last month, President Xi Jinping told the All-China Women's Federation that women played a crucial role in society and must start a "new trend of family."
The "pink tax" pushback coincides with the slower-than-expected recovery of China's economy since Covid-19 restrictions were lifted late last year, which has made consumers "more considerate about expenditures than ever," Qian said.
The urban unemployment rate for people ages 16 to 24 hit a record 21.3% in June before Chinese officials said they would stop publishing the data.
Some women say they already bear additional costs stemming from deeply rooted gender biases in China, where, as in so many societies, "females are more likely to be judged by appearance," said Sun Xin, a senior lecturer in Chinese and East Asian business at King's College London.
As a result, products like cosmetics can become "almost necessities" for women, leading them to have less price sensitivity and feel compelled to spend more on them, he said.
"I have to wear makeup when I go out for formal dinners, especially when there are older men present. Otherwise they will think I don't respect them," said Chen Haiyu, a supermarket supplier in her 40s from the coastal city of Qingdao. "Makeup is a necessity for me, even though I think it is expensive and damages my skin."
'Every dollar spent is a vote'
Some consumers are pushing back, calling for boycotts against retailers that charge women more for essentially the same products men buy.
Two of China's largest e-commerce platforms, JD.com and Taobao, drew backlash this year over annual shopping events dubbed "Goddess Day" and "Queen's Day" that are held on March 8, International Women's Day. Critics accused the companies of using the terminology to manipulate women into spending money, and pointed out there is no equivalent shopping event for men.
Though the two events were still estimated to have earned billions of dollars — JD.com and Taobao did not release the exact figures this year — some merchants said that sales had grown more slowly, including sales of products aimed at women.
"This year's sales data has increased gradually. But compared to the doubling growth of previous years, it is too slight," the owner of an online women's clothing store wrote on social media.
Most Chinese consumers also plan to limit their spending on this year's Singles Day event, CNBC reported, citing a survey by Bain and Company.
"Every dollar spent is a vote for the world," college student Lancc Lan, 21, said. "I won't contribute another cent to brands that blatantly deceive women or are unfriendly to them. I believe that the efforts of women groups may bring about changes."