Death toll from eruption of Indonesia's Mount Marapi rises to 23
BATU PALANO, Indonesia — Rescuers searching the hazardous slopes of Indonesia's Mount Marapi volcano found the last body of climbers who were caught by a surprise weekend eruption, raising the number of confirmed dead to 23, officials said Wednesday.
About 75 climbers started their way up the nearly 9,480-foot mountain in Agam district of West Sumatra province on Saturday and became stranded.
Some 52 climbers were rescued after the initial eruption Sunday, and 11 others were initially confirmed dead. New eruptions on Monday and Tuesday spewed more hot ash as high as 2,620 feet into the air, reducing visibility and temporarily halting search and recovery operations, said Abdul Malik, chief of the Padang Search and Rescue Agency.
The bodies of two climbers were located on Monday and nine more on Tuesday, the National Search and Rescue Agency said.
West Sumatra's Police Chief Suharyono said the body of the last climber was found early Wednesday, just a few yards from the eruption site, bringing the death toll to 23.
The rescuers contended with bad weather and difficult terrain, along with winds that brought heat from the eruptions, while distraught relatives gathered at a relief post command in Batu Palano on the mountain slope, hoping for news of missing family members.
Twenty bodies had been taken to a hospital for identification by Wednesday morning, as more than 300 rescuers, including police officers and soldiers, struggled to bring the others down the mountain and search for the missing climber, said Suharyono, who like many Indonesians goes by a single name.
Marapi has stayed at the third highest of four alert levels since 2011, indicating above-normal volcanic activity under which climbers and villagers must stay more than almost 2 miles from the peak, according to Indonesia's Center for Volcanology and Geological Disaster Mitigation.
Officially, climbers were only allowed below the danger zone and had to register at two command posts or online. However, local officials acknowledge that many people may have climbed higher than permitted.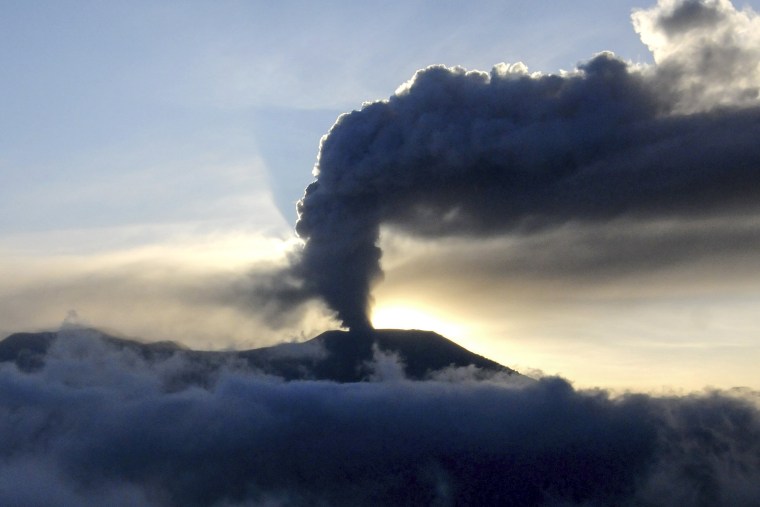 Marapi spewed thick columns of ash as high as 9,800 feet in Sunday's eruption and hot ash clouds spread for several miles. Nearby villages and towns were blanketed by tons of volcanic debris that blocked sunlight, and authorities recommended that people wear masks to protect themselves from the ash.
About 1,400 people live on Marapi's slopes in Rubai and Gobah Cumantiang, the nearest villages, about 3 to 4 miles from the peak.
Marapi is known for sudden eruptions that are difficult to predict because the source is shallow and near the peak, and its eruptions are not caused by a deep movement of magma, which sets off tremors that register on seismic monitors.
Marapi has been active since a January eruption that caused no casualties. It is among more than 120 active volcanoes in Indonesia, which is prone to seismic upheaval due to its location on the Pacific "Ring of Fire," an arc of volcanoes and fault lines encircling the Pacific Basin.