Brown students are on edge after a Palestinian classmate was shot in Vermont
PROVIDENCE, R.I. — Tensions remained high Tuesday at Brown University after student Hisham Awartani and two other Palestinian men who attend different colleges were shot while visiting family in Vermont.
At a vigil Monday night for Awartani, who faces a long recovery from a spinal injury, a protest broke out and Brown President Christina Paxson was forced offstage.
The shooting Saturday night revealed a schism between students who support Israel and those who oppose its presence in the Gaza Strip and other Palestinian territories. At another event this week, 20 students were arrested by university police and charged with trespassing after they refused to leave a sit-in outside Paxson's office. The charges were later dropped.
In a statement read to students at the vigil Monday night, Awartani said: "It's important to recognize that this is part of the larger story. This heinous crime did not happen in a vacuum.
"I said about a month ago that Palestinians cannot afford to hold vigils every time this happens. And as much as I appreciate and love every single one of you here today, I am but one casualty in this much wider conflict."
He was walking near the University of Vermont campus in Burlington on Saturday night with longtime friends Kinnan Abdalhamid, a student at Haverford College in Pennsylvania, and Tahseen Ali Ahmad, who attends Trinity College in Connecticut, when they were shot. Awartani and Abdalhamid are Palestinian American and hold dual citizenship, while Ali Ahmad is a legal U.S resident.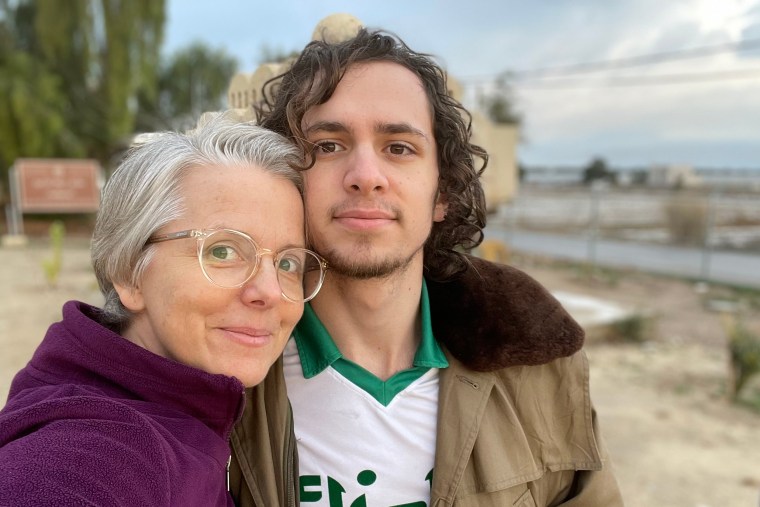 They survived but were hospitalized. A suspect has been arrested and charged.
The shooting sent shock waves across college campuses, where students are voicing outrage, fear and frustration over the war taking place thousands of miles away.
"I feel like maybe things will change for Palestinians here after this, but this is nothing new," said Brown junior Aboud Ashhab, who attended Ramallah Friends School in the occupied West Bank with the victims. "We knew we were not safe. We knew we were not protected."
Awartani and other Palestinian students on campus had been increasingly anxious since the start of the war on Oct. 7, several classmates said.
A friend of Awartani's, Daniel Newgarden, said that Awartani had attended a Shabbat dinner with some of the Jewish students who had been arrested during the sit-in and that they got together each Friday afterward.
"Hisham was so enthused that they were standing up for Palestinian rights in this way," Newgarden said, adding that he heard about the shooting in a text Awartani's roommate sent at 3 a.m. Sunday.
Ariela Rosenzweig, a senior and a founding member of BrownU Jews for Ceasefire Now, a group formed this fall, was arrested at the sit-in and said it has "been really difficult as Jewish students to see our voices and our identity being folded into" one perspective on the war.
"We were moved to make it clear where we stand as Jewish students on this campus," Rosenzweig said. "We are not a monolith."
Newgarden said he had noticed Awartani and other Muslim or Palestinian classmates growing increasingly anxious since the war started.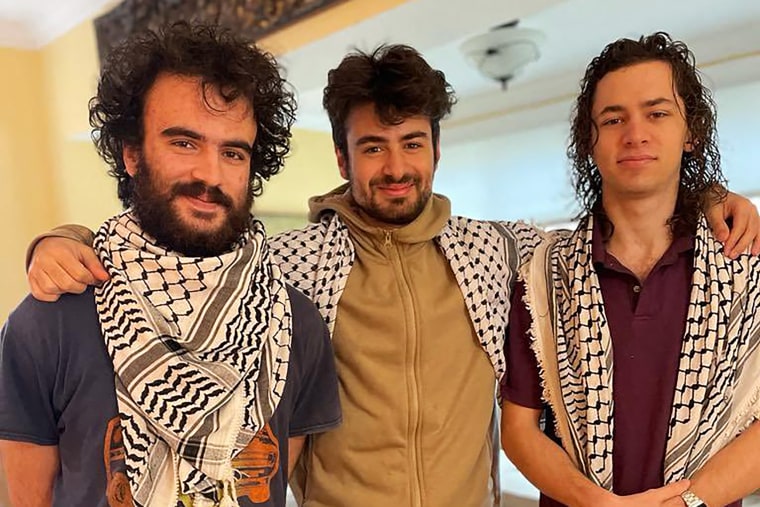 "Hisham is from the West Bank, but obviously his Palestinian identity kind of underscored everything in that respect," Newgarden said.
Paxson said at the vigil Monday night that the attack on Awartani and his friends was an "irrational and hateful act of violence." 
"Although we don't know the details yet, it is horrific that the mere fact that Hisham and his friends were simply being who they are, proud Palestinians, wearing kaffiyehs, speaking in Arabic, that may be what prompted the shooting," she said.
During the vigil, students huddled for warmth in the first snow flurries of the season. Many wore kaffiyeh scarves, a symbol of Palestinian solidarity, and shouted for Paxson and school administrators to divest the university's endowment from companies affiliated with Israel.
Paxson abandoned her microphone and did not finish her address.
Undergraduate students at Brown voted to pass a referendum measure to divest in 2019. Paxson opposed the measure at the time, saying in a statement that "Brown's endowment is not a political instrument to be used to express views on complex social and political issues."
Several students who know Awartani accused the university of being unsupportive to those voicing solidarity with the people of Gaza.
"In the past seven weeks, Palestinian, Arab and Muslim students at Brown have been threatened and harassed," Ashhab said. "The administration has done nothing to protect us. The double standard is clear. Palestinian students are not treated equally on our campus."
Talia Sawiris, a senior and the president of the university's Arab Society, said the university's attention to Palestinian students since the shooting has been "too little too late." She said Awartani himself "stood in front of Paxson and asked her for divestment" at a meeting in mid-October because of the "violence he's faced in his home in Palestine."
Ashhab confirmed that he and Awartani, as well as other Palestinian students, were at the October meeting and "expressed their concerns," including over safety on campus.
Elze Amileviciute, a junior from Lithuania who met Awartani at an orientation for international students, credited him with making people feel safe and supported on campus.
A bookworm with a love for culture and history, Awartani is the kind of person who always has something new to share, she said.
"It's incredibly surreal and made everyone feel unsafe," Amileviciute said of the shooting. "Hisham is first and foremost a really, really caring friend."