Biden tells two different stories about the Israel-Hamas war in letters to Americans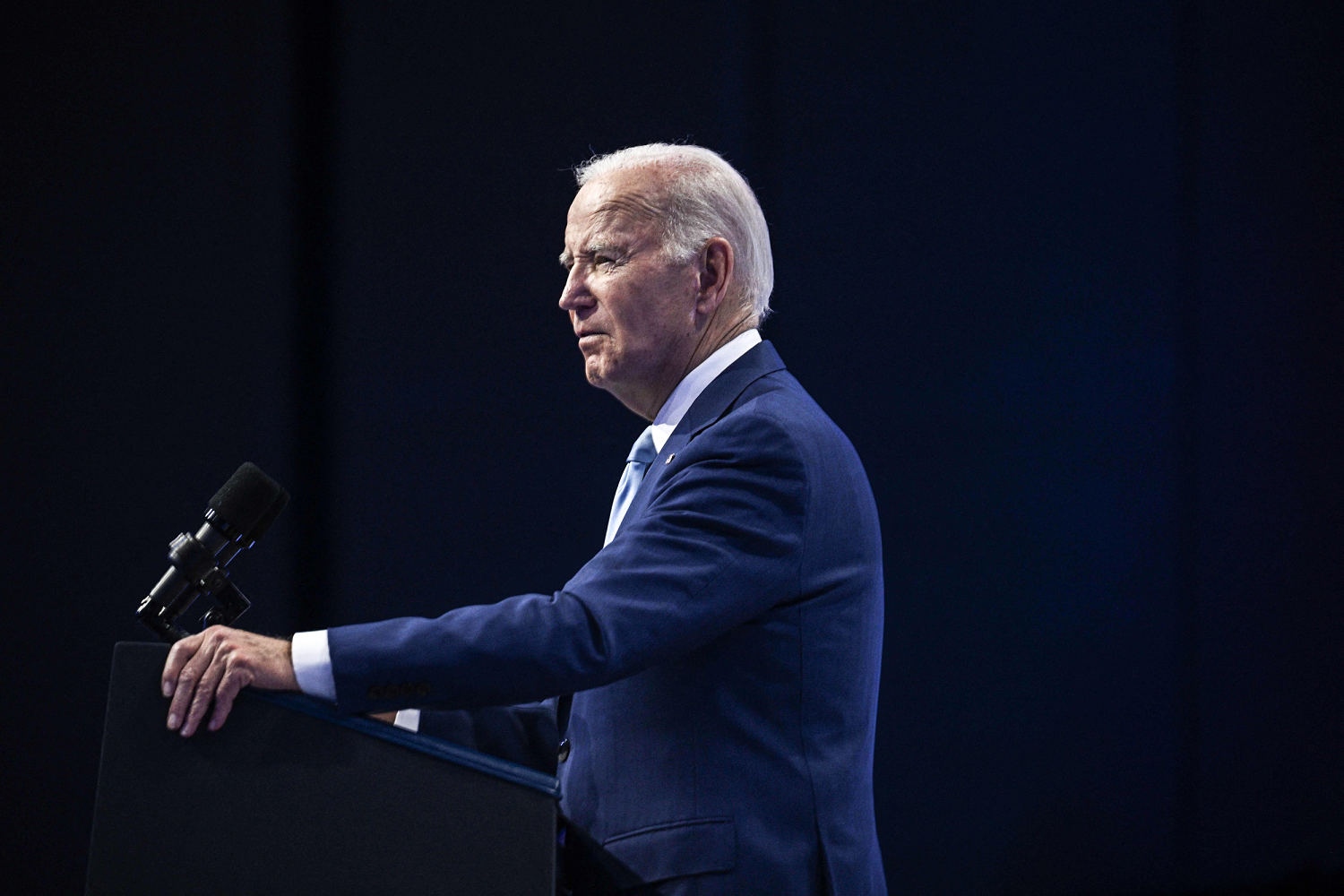 WASHINGTON — President Joe Biden is delivering different messages on the war in the Middle East to pro-Palestinian and pro-Israel Americans, according to copies of official White House correspondence obtained by NBC News.
While one letter emphasizes Biden's support for Israel against the "pure evil" of terrorism, the other focuses on the administration's work to protect civilians in Gaza.
Though the two letters do not contradict one another — or Biden's own policies — it is not common for the White House correspondence office to craft versions of a letter on the same topic that diverge so dramatically in their emphasis. Yet they reflect the political tightrope Biden is trying to navigate as pro-Israel and pro-Palestinian elements of his coalition fray over the war.
The form response sent to people who back Israel, generated by the White House office of presidential correspondence and auto-signed with Biden's name, invokes the Holocaust in relationship to the Oct. 7 terrorist assault by Hamas, pledges ongoing support to Israel and promises to prioritize the return of hostages.
"The people of Israel lived through a moment of pure evil" that "resurfaced horrible memories" and amounted to the "deadliest day for Jews since the Holocaust," Biden writes.
"The United States stands with Israel," he continues. "We will continue to ensure that Israel has what it needs to defend itself against terrorism in accordance with international humanitarian law. I will bring all resources to bear to secure he release of hostages held by Hamas — including our fellow Americans."
But the mirror-image response to pro-Palestinian letter-writers makes no mention of evil, of the Holocaust or of American support for Israel. Instead, it focuses on providing aid to Palestinians.
"We must always condemn terrorism when we see it," Biden writes to pro-Palestinian correspondents. "But Hamas does not represent the Palestinian people. It does not stand for the dignity of Palestinians. We mourn the many innocent Palestinians who have been killed."
He goes on to explain that is why his administration "is working closely with partners to ensure that life-saving assistance — including, food, water, and medicine can urgently reach innocent Palestinians in Gaza" and emphasizes that "the United States stands unequivocally for the protection of civilians during conflict."
There are sentiments common to the letters, including Biden's promises to pursue protection of civilians, secure humanitarian assistance for "innocent Palestinians" and work to realize a two-state solution, as well as calling Hamas a terrorist organization.
"Anyone who reads the different views we are seeing in the mail would see that these letters need two separate responses," said a White House official who spoke on the condition of anonymity to discuss internal deliberations. "This is a complex issue that involves nuance and sensitivity. Having unique responses allows us to better address the distinct concerns and sensitivities raised in these incoming letters."
Biden has seen "representative samples" of incoming mail, the official said, adding that the multiple-response approach "is standard for many complex issues and is designed to be respectful to and informative to the writer."
The split messaging reflects Biden's need to appeal to both sides of a schism in his party that has been exacerbated by the war. With less than a year to go before he faces re-election, he can ill afford to further anger Democratic voters.
An NPR/PBS NewsHour/Marist poll released this week shows that most Democrats — 56% — now believe that Israel's response to the terrorist attack has been "too much." That's up from 35% four days after the assault, when Israel had yet to launch its ground invasion of Gaza. Overall, 60% of Democrats approve of Biden's handling of the war, according to the survey.
In Michigan, a crucial swing state with large Arab-American and Muslim communities, some Democrats are threatening to withhold their votes from Biden over his backing for Israel. And pro-Palestinian demonstrators clashed with Capitol Police this week after the demonstrators blocked access to the Democratic National Committee, providing a stark reminder of the stakes for the party.
There seems to be little safe political space for Biden at the moment within his own party, and he runs the risk of further alienating people with passionate views about the war in the Middle East if he doesn't acknowledge their concerns.
On many issues, the White House sends a single form letter in response to people who write to ask about the president's position or to express their own views on a particular topic.
At times, on particularly controversial issues, the White House will draft different versions of a letter to accentuate the president's agreement with one side or play down his disagreement with the other side, said one person who worked in the correspondence office in a prior administration.
"Every office deliberates over it," this person said, noting that the possibility of the versions becoming public typically deters wide variance.
"It's more of an art and a gut instinct than a science," the person said. "We generally erred in the direction of saying less to everyone in order to be saying the same thing to everyone."
Biden can be sure he won't be accused of saying the same thing to everyone based on these two letters.
They are so precisely curated that even Biden's call to fight hatred, an echo of his remarks in an Oval Office address last month, uses inverse structures.
"Here at home, I have directed my team to identify, prevent and disrupt and domestic threats that could emerge against Jewish, Muslim, Arab or any other communities," he writes to supporters of Israel's actions. "There is no place for hate in our world. Not against Jews. Not against Muslims. Not against anybody."
But in the letter to pro-Palestinian Americans, he writes, "I have directed my team to identify, prevent, and disrupt any domestic threats that could emerge against Muslim, Arab, Palestinian, Jewish, or any other communities. There is no place for hate in America. Not against Muslims. Not against Arabs. Not against Palestinians. Not against Jews. Not against anybody."
In the same way, Biden flips antisemitism and Islamophobia later in the two versions, emphasizing the latter in the letter to the pro-Palestinian correspondents.
And in the pro-Israel letter, Palestinians are omitted from the list of peoples Biden wants to protect from hatred.
The pro-Israel letter reviewed by NBC News was dated Nov. 1. The pro-Palestinian letter was dated Nov. 8.
Even the closing lines are very distinctly written to appeal to opposing sides.
"And we will continue to hold in our hearts all the families across our country and around the world who are mourning the loss of a loved one—a piece of their soul—to this tragedy," Biden writes to the pro-Palestinian set.
"And we will continue to reject terrorism and its indiscriminate evil, just as we have always done," he writes to folks who write letters in support of Israel.