Appeals court temporarily lifts Trump gag order in civil fraud case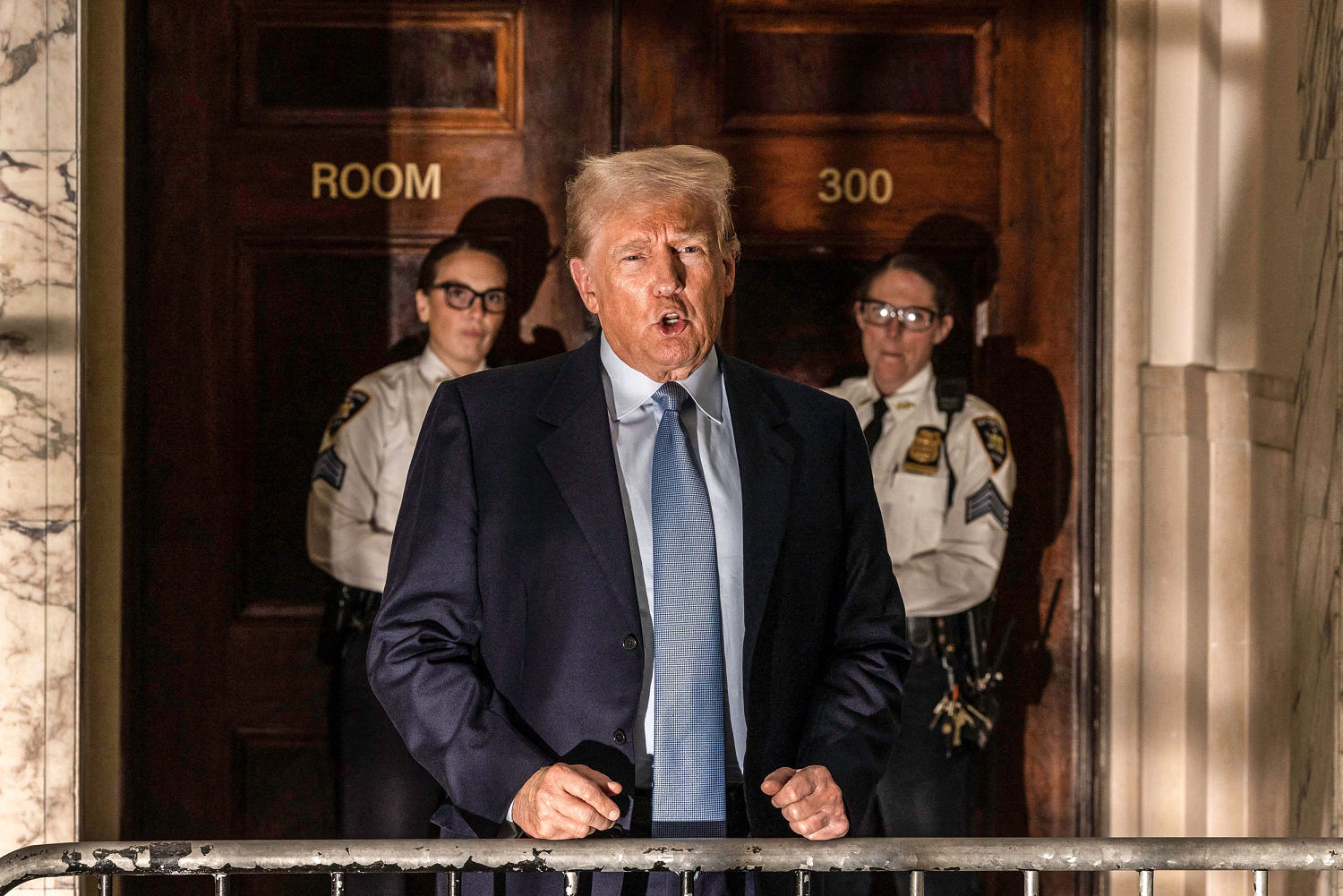 A New York appeals court on Thursday temporarily blocked a gag order in former President Donald Trump's civil fraud trial that barred him from complaining about the judge's law clerk.
The Appellate Division judge ordered the stay after Trump's attorneys appealed the gag order that Judge Arthur Engoron had put in place as being "unconstitutional."
In a brief handwritten ruling Thursday, Appellate Division Justice David Friedman said he was granting an interim stay on the gag order given the "constitutional and statutory rights at issue."
The pause will remain in place until at least Nov. 27, when a full panel of appeals court judges will consider the matter.
Trump bashed the clerk on his social media platform Truth Social hours after the ruling in a post that did not name her but celebrated the appeals court ruling. The post criticized Engoron's "ridiculous and unconstitutional gag order" for "not allowing me to defend myself against him and his politically biased and out of control, Trump Hating Clerk, who is sinking him and his Court to new levels of LOW."
The gag order did not prohibit Trump from criticizing Engoron.
Engoron imposed the gag order last month, on the second day of the $250 million New York civil fraud trial, after Trump posted a picture of the clerk and disparaged her in a Truth Social post.
"Personal attacks on members of my court staff are unacceptable, inappropriate and I won't tolerate it," Engoron said after finding out about the social media post and critical comments Trump had made about the clerk to reporters covering the trial in Manhattan.
The judge has fined Trump twice for a total of $15,000 after finding he violated last month's order.
The judge expanded the order to include Trump's attorneys last week, following their repeated complaints about what they described as the clerk's "inappropriate behavior," which they said included making comments and passing notes to the judge and rolling her eyes during witness testimony.
Engoron said at the time that he has every right to get advice from his clerk and that Trump's lawyers were "falsely accusing her of bias against them and of improperly influencing the ongoing bench trial," while ordering them not to refer to his staff. He said in a written ruling that his chambers had been "inundated" with threats since the trial began on Oct. 2.
In their appeal, Trump's lawyers argued that the gag orders were "not narrowly tailored."
"The mere potential that speech may anger or provoke others likewise does not entitle Justice Engoron to suspend wholesale the rights afforded litigants by the First Amendment and the New York Constitution," Trump attorneys wrote. "The First Amendment does not permit Justice Engoron to restrict speech based on the audience's anticipated unruly reaction."
They also contended that the fines Trump was hit with were excessive, and that Engoron had not followed proper procedure in imposing them.
The appeal Wednesday did not mention the name of Engoron's clerk, but included numerous pictures of her. Trump's attorneys also filed a motion for a mistrial on Wednesday, which included repeated references to the clerk's name in addition to numerous pictures.
Friedman, who hit pause on the gag order, is the same appellate judge who issued a temporary stay of the trial in September, citing concerns by Trump's lawyers regarding outstanding legal issues. A full five-judge panel that included Friedman lifted the stay before the trial started.
Trump attorney Jesus Suarez declined comment on the gag order after court Thursday. Another Trump lawyer, Alina Habba, told The Associated Press at the Appellate Division courthouse that she would not be advising Trump to keep quiet about the clerk.
"I don't see a reason for restrictions because Ms. James is continuing to disparage my client," she said, referring to New York Attorney General Letitia James, who brought the fraud case against Trump and his company. "Both sides need to be able to speak."
Trump was also hit with a gag order in the federal criminal election interference case against him, which barred him from making statements about potential witnesses or disparaging comments about the prosecutors, court staff or support personnel. U.S. District Judge Tanya Chutkan, who's presiding over that case, briefly lifted the order last month pending Trump's appeal on constitutional grounds, but eventually put it back in place.
The U.S. Circuit Court of Appeals for Washington, D.C., will hear arguments Monday on Trump's appeal in the federal case.