American girl who turned 4 while held hostage freed by Hamas
An American girl who spent her fourth birthday held captive by Hamas was freed by the militant group Sunday as a part of the cease-fire and hostage exchange agreement between Israel and the militant group. 
Abigail Mor Edan was among 17 hostages freed on the third day of the fragile truce, which has seen Israel release Palestinian prisoners and allow aid into the Gaza Strip, according to a statement from Hostages and Missing Persons Families Forum.
In an exclusive interview in Washington with NBC News' Lester Holt earlier this month, Abigail's great-aunt Liz Hirsh Naftali revealed that the little girl's parents were killed in their home at the Kfar Aza kibbutz.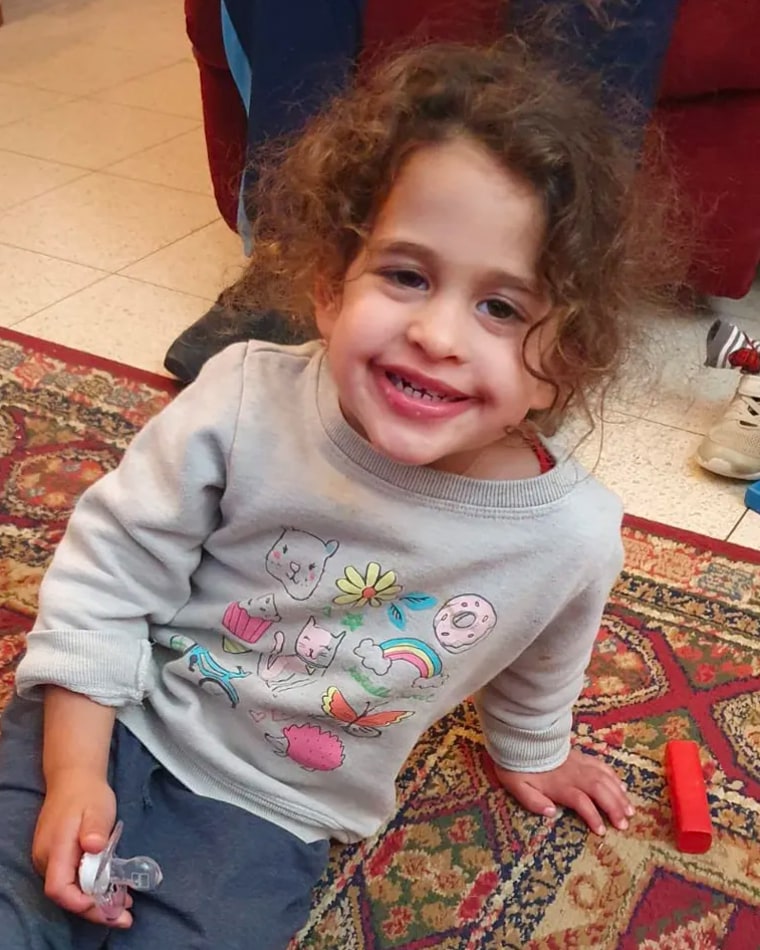 Abigail, who turned 4 on Friday, was in her father's arms when a Hamas gunman shot him and he fell on top of her, Hirsh Naftali said. Abigail then "crawled out from under her father's body … full of his blood," she added.
After running over to a neighbor's house Abigail joined them in their bomb shelter, Hirsh Naftali said, adding, "The last thing we learned was that somebody saw [a] terrorist taking this mother, her three kids and Abigail out of the kibbutz."
Abigail's older brothers survived the terror attack, she said. "They saw their mother murdered. They saw their father murdered. These kids know their parents are gone," she said. "What do you say to these kids? You give them love. You give them everything."
Ahead of the release, in an interview with NBC News' "Meet the Press" Sunday, White House National Security Advisor Jake Sullivan said it was "long past time" for her to be freed.
He added that the White House was "hopeful that there will be additional Americans released," and the U.S. was "working with all sides on the possibility that this deal gets extended to additional hostages beyond the initial 50."
Sunday's release of 17 hostages, which included 13 Israelis and four Thai nationals, came after an hours-long delay, in which Hamas alleged Israel made "several violations of the agreement." The militant group claimed that Israel had not delivered the promised amount of aid to northern Gaza and that it was no releasing Palestinian hostages in the agreed-upon order.
The exchange eventually took place, and 39 Palestinian prisoners held by Israel were also released. The International Committee of the Red Cross said it helped 33 Palestinians return to the West Bank.
Two dozen hostages — including 13 Israelis, 10 Thai nationals and one Filipino citizen — were freed from Gaza on Friday in exchange for 39 Palestinians held in Israel.
The temporary cease-fire deal was brokered between the U.S., Qatar, Egypt and Israel, and it is set to end Monday.
The terms of the deal include the expectation that Hamas will release at least 50 hostages in exchange for 150 Palestinians being held in Israeli jails by the end of the agreement. Israel said it would agree to an extra day of a cease-fire for every 10 additional hostages released.
Hundreds of aid trucks bearing water, food, medical supplies and fuel have also entered Gaza under the agreement.